Unlocking the Selling Power of Yelp: How-To Guide for Your MSP Company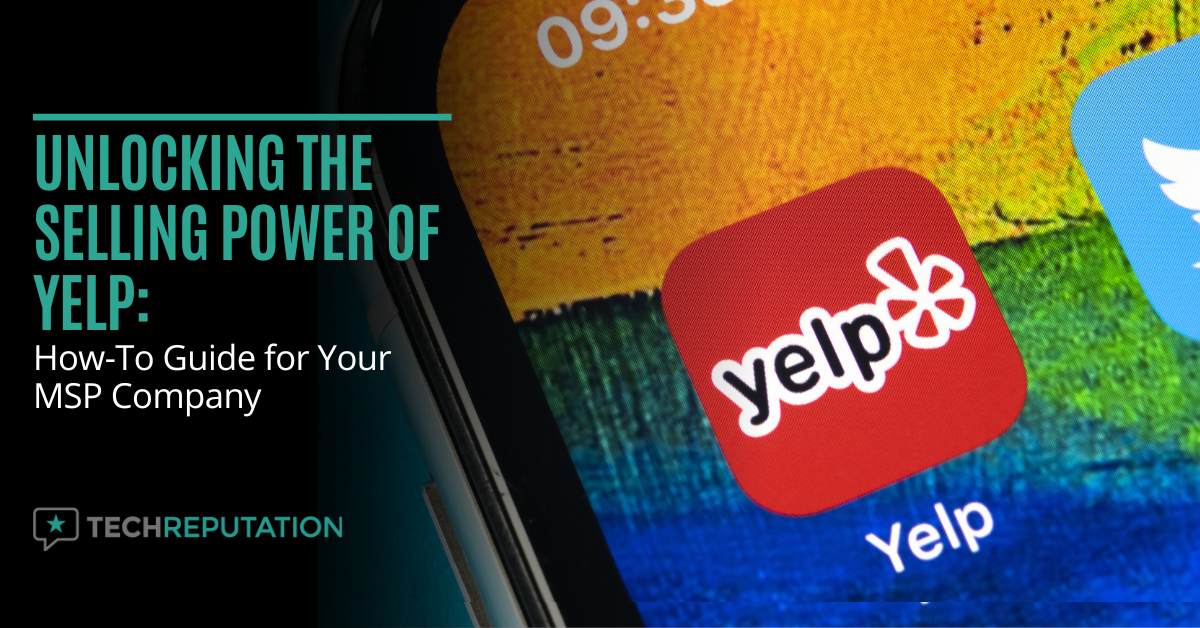 Yelp isn't just for restaurants. Consumers use the popular review site to share their experiences at car washes, dentists, and local computer shops. If you're not managing a listing for your business, you could be missing out.
Yelp is #2 to Google when it comes to where consumers go for business reviews. While about 64% of people will turn to Google to look up a business review, 45% turn to Yelp first.
In this article, we're diving into the world of Yelp and how your MSP business can make the most of this powerful platform. Whether you're new to Yelp or already have a profile, this guide will help you navigate the waters and leverage Yelp to boost your online presence and attract more clients.
Why Yelp Should Matter to Your IT Business
Before we jump into the nitty-gritty, let's address the elephant in the room: why should you care about Yelp? Well, Yelp isn't just another review site. With over 178 million users, it's a virtual treasure trove of potential customers seeking local services, and that includes managed IT services like yours!
Home and local services are the #1 businesses on Yelp.
When someone searches for "MSP near me" or "IT support in [your city]," guess who shows up? Yep, businesses with Yelp profiles! So, if you want your MSP company to shine like a beacon in a sea of tech service providers, Yelp is your go-to guide.
If you haven't been paying much attention to Yelp, it's time to get it added to your marketing and reputation management strategy.
Here are some of the things you can do to boost your Yelp visibility to drive more leads.
Tips for Making the Most of Yelp to Promote Your IT Business
Setting Up Your Yelp Profile – The Right Way
First things first, head to Yelp's website or mobile app to create a business account for your MSP. First, check to see if your listing is already there. If someone reviewed you, there may be a system-generated profile that you'll need to claim. If you don't find one, then you can create one from scratch.
Get instructions from Yelp for claiming or creating a page here.
Make sure to fill in all the essential details, like your business name, address, phone number, website link, call-to-action, and a snazzy description that highlights your MSP's unique selling points.
Oh, and don't forget to upload some eye-catching photos! Show off your team in action, your cozy office space, or even snapshots of you geeking out over the latest tech gadgets. Remember, people love seeing the human side of your business!
Here's an example of a Yelp business listing for an IT business: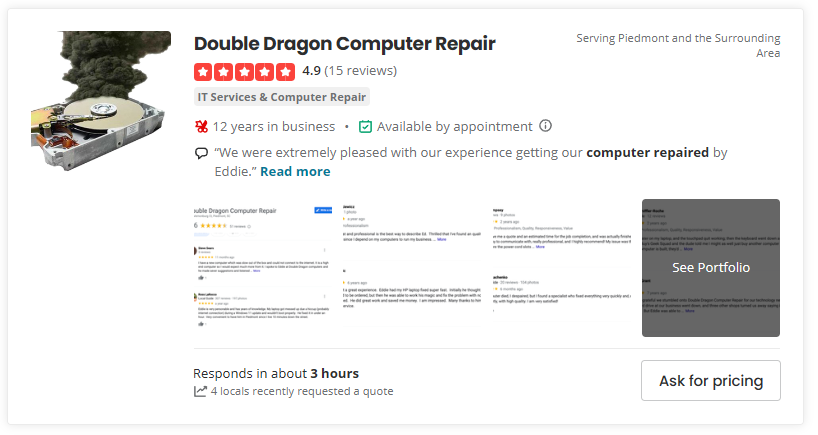 This business has its profile nicely filled out, including a CTA.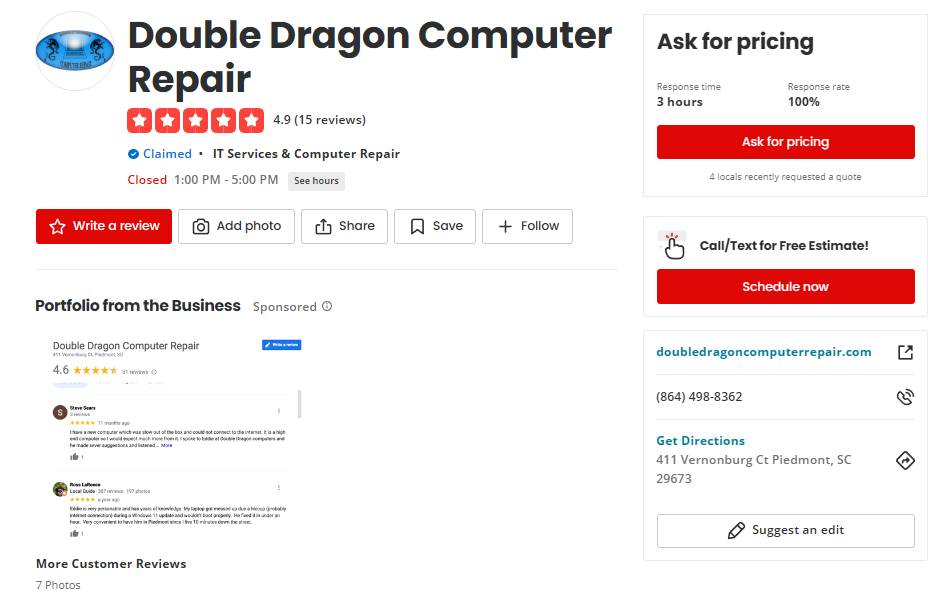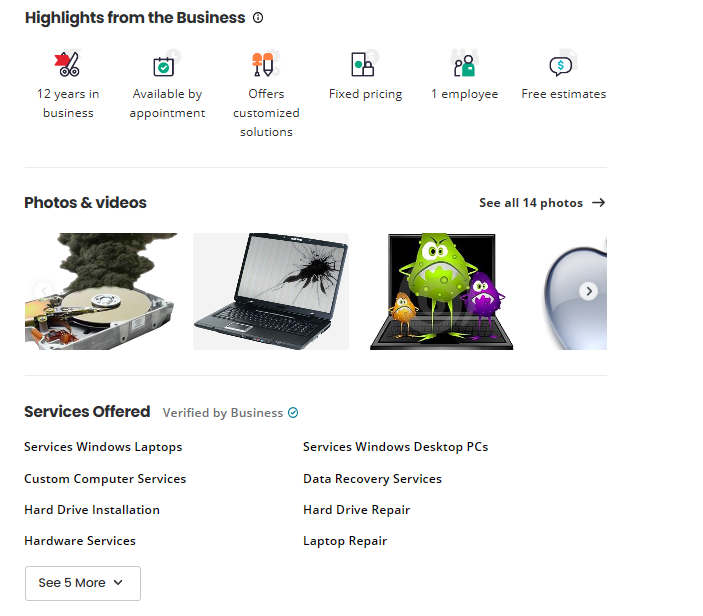 The Power of Positive Reviews
Reviews are the lifeblood of Yelp. Positive reviews can make your MSP company shine like a star, while negative ones can be a real damper. So, how do you encourage positive reviews and handle the not-so-great ones?
Well, first off, always provide top-notch service. Happy clients are more likely to leave glowing reviews! But don't be shy to politely ask your satisfied customers to share their experiences on Yelp. You can include a subtle request in your email signature or at the end of an excellent service encounter.
Don't let the risk of negative reviews keep you from engaging with Yelp. Everyone is going to get one at some time or another but it doesn't have to define you.
When dealing with negative reviews, take a deep breath. Respond professionally, addressing the customer's concerns with empathy and offering a solution. Remember, potential clients are watching how you handle feedback, and a thoughtful response can turn a negative into a positive!
Showcase Your Expertise with Yelp Connect
You know your MSP company is the best in the biz, but does the world know it too? Yelp offers a fantastic feature called Yelp Connect where you can showcase your expertise through informative and engaging content.
Yelp Connect is a great outlet to leverage in your social media mix. When you post a new blog article about things like the latest cybersecurity threats, tips for optimizing business networks, or fun tech-related stories, promote it on Yelp.
By sharing regular updates, you keep your Yelp page fresh, establish your MSP as an authority in the field, and build trust with potential clients.
Engage with Your Yelp Community
Yelp isn't just a one-way street; it's a community! Engage with your audience by responding to reviews, both positive and negative. A simple "thank you" to your satisfied clients can go a long way while addressing concerns from unhappy customers demonstrates your commitment to quality service.
Additionally, participate in discussions and events organized on Yelp. Attend local tech meetups, respond to questions in the community forum, and share your knowledge generously. Being an active member shows that you care about your clients and the local tech ecosystem.
Stay Connected & Shoutout to Your Superfans with the Yelp for Business App
Want a secret tool to boost your Yelp game even more? Download the Yelp for Business app. It makes it much easier for you to manage your Yelp presence.
For example, you can:
Manage your Yelp business profile from your pocket
Track visitor engagement
Keep track of leads
Get real-time notifications of new reviews and messages
Respond quickly to customers and prospects
Another great way to use the Yelp for Business app is to identify your superfans, those clients who can't stop raving about your MSP company.
Give them a virtual high-five by sending a private message or even a small token of appreciation. Superfans are your brand ambassadors, and they can spread the word about your business like wildfire.
Create a Check-in Offer
Everybody loves a good deal. Yelp offers a feature where you can create exclusive offers for Yelp users. It could be a discount on your services, a free consultation, or even a fun tech giveaway.
Check-in Offers not only attract new customers but also incentivize existing ones to keep coming back. Plus, who doesn't love the feeling of getting a little extra bang for their buck?
Once you post an offer, visitors to your page click and check in on the app. The offer encourages the person to visit your shop in person to claim the deal.
Use Yelp to Up Your Gift Certificate Game
IT service gift certificates can make a great holiday, birthday, or going-off-to-college gift in today's digitally driven world. Another bonus of using Yelp is that you can create these using its interface.
Just go into your business page and click "Deals & Gift Certificates" from the menu to set one up. You'll then be able to sell gift certificates year-round easily, without the need to pay for a separate online service.
Advertise with Yelp Deals
One more way to drive leads by dangling a carrot on Yelp is through Yelp Deals. You can set up a deal for a percentage or dollar amount off a service, such as $50 off the setup fee for a new PC protection package.
Where a Check-In Offer entices someone to come to your location to claim the deal, Yelp Deals are purchased up front, just like gift certificates. Once they make a purchase, they can redeem the offer at your business location or website.
Monitor Your Yelp Analytics
If you ever played video games, you'll likely remember checking your score after each level. Well, think of Yelp Analytics as your MSP's high-score tracker. It gives you valuable insights into how your Yelp page is performing.
Pay attention to your profile views, user actions (like website clicks or calls), and review trends. This data can help you fine-tune your Yelp strategy and make the most of your MSP's online presence.
Promote Your Yelp Page
Promote your Yelp page to increase your exposure and traffic. You can do this by linking your Yelp page to your other online platforms, such as your website, social media, blog, etc.
You can also use Yelp badges and stickers to display your ratings and reviews on your website or storefront. You can also join Yelp's advertising program, which allows you to create targeted ads that appear on relevant search results and competitor pages.
When asking clients for a review, add both your Google and Yelp profiles. They can choose the one they like best. For example, someone may be proud of their Yelp presence and prefer to review your IT business there. Other enthusiastic fans of your company may do both!
Use Yelp Actively to Encourage Reviews & Drive Sales
By creating an appealing profile, fostering positive reviews, engaging with your audience, and showcasing your expertise, Yelp can become your MSP's secret weapon for success.
Make the most of Yelp's local-centric community, and remember, when it comes to your MSP's online journey, the sky's the limit! Happy Yelping!
Need some assistance building your reviews and reputation? Tech Reputation can help you with a timesaving, automated process.
What's your experience with using Yelp to promote your IT business? Tell us in the comments.