Why Word of Mouth Can't Replace a Proactive IT Business Reviews Strategy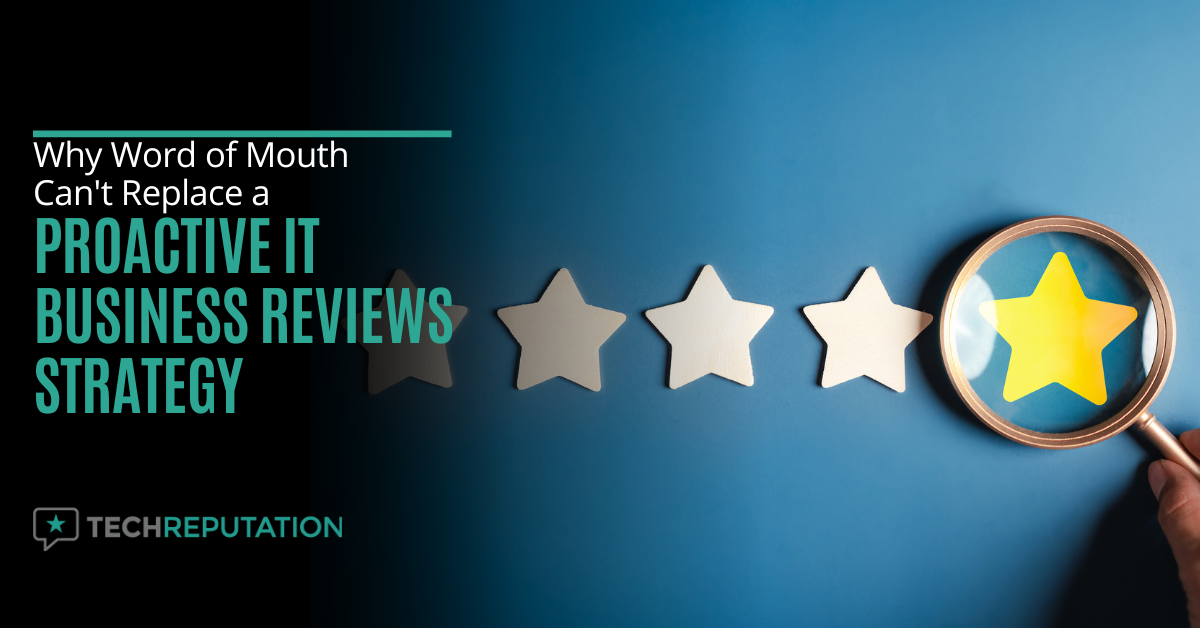 Have you chatted with other IT business owners about lead building and heard something like, "Word of mouth works for me" or "I just rely on referrals from my current customers?"
While getting a referral from a current customer is great, it's not something you can solely rely on. You also can't promote a star rating or review from something someone said offline to someone else.
Business reviews are a main driver of leads and sales. Leaving a repeatable review process out of your marketing engine is a big mistake if you want to grow your business and have reliable sales each month.
What's Wrong with Relying Only on Word of Mouth?
If you don't currently have a process to collect and display reviews, then you may not realize what you're missing. Word of mouth is certainly helpful, but it impacts just the one person that was referred to your business.
Online IT business reviews on the other hand can be seen by thousands of people and drive many more leads than just the one.
Here are some of the things that are wrong with putting all your eggs in one basket and only relying on word of mouth.
You're Missing a Huge Sales Opportunity
Star ratings and reviews that are posted online about your MSP company aren't just nice callouts. Reviews drive sales. So, without them, your business is missing out big time on sales opportunities.
Approximately 92% of B2B buyers state they are more likely to make a purchase from a company after reading a review. Also, when you post at least five product reviews on your site, it can increase conversion rates by 270%.
Most people also trust reviews as much as a personal referral from a friend or colleague. 84% of people say they give an online review as much weight as a personal referral from a friend.
You Can't Control Lead Volume
You have no control over whether a current customer decides to refer you to another business. So, if you leave your reviews and marketing in the hands of "word of mouth," you never know when a new lead might come.
Someone might refer you to a colleague or new boss, or they might not. It's sporadic and unpredictable. Word of mouth also goes two ways. How do you know that people also aren't spreading bad word of mouth about your company? Either way, you can't control it.
Successful MSP marketing follows a repeatable process that is done regularly – for example:
Send a request for review after a service is completed
Monitor reviews & comments
Reply to reviews
Post reviews on your website
What this ongoing process leads to is having control over the number of leads being driven and the sales that result from them.
A Referral Isn't a Review
Word of mouth can't be posted on your site with a star rating. A prospect looking your company up on Google, can't see what was said about you from an offline referral like they can if you have some reviews displaying on your Google Business Profile page, or Yelp or Thumbtack reviews on those respective sites.
With no reviews, your company might see a negative impact. Someone searching for local IT services might think, "Hmm why doesn't this company have any reviews?" or "Why are their reviews so outdated, what's wrong with them?"
While both offline referrals and online reviews can be considered your business reputation, only one is visibly displayed to others – your online reviews.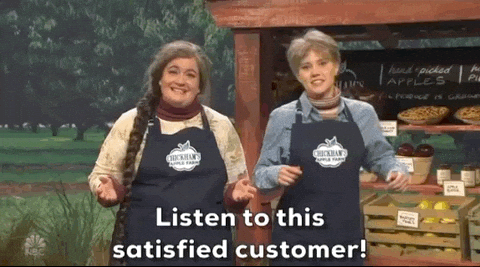 Word of Mouth Doesn't Help Your SEO
Search engine optimization (SEO) is an important driver of local MSP business leads. It's very low cost and can drive new leads for months and years after your pages begin getting decent Google rankings.
A word-of-mouth referral is offline. Yes, it's great that someone referred a new customer, but it does nothing to enhance your SEO, which is how most of today's companies drive new leads and sales.
Online reviews, especially those on sites like Google, Facebook, Yelp, and others, are considered in the SEO mix. They act as links back to your website and help enhance your local search results.
Why Your Reviews Strategy Isn't Working & How to Fix It
You might think, "But I've tried collecting reviews, and I don't see any tangible results, so at least I get a lead from referrals every now and then."
First, putting a process in place to generate reviews isn't going to impact word of mouth. It will always be there for you. But you need more if you want to grow.
Second, there is a good chance that you might be making critical mistakes that are impacting your results when trying to use reviews. Here are some of the most common reasons your reviews may not be driving the volume of leads that you'd like.
You Only Ask for Reviews Sporadically
Just like any other type of content marketing, you need to put your review process in a continuous loop. If you only ask for reviews from time to time and don't ask every customer, then your reviews can be sparse and get stale.
Old reviews lose their shelf life and their impact on a buying decision. That's why you want to ensure you continue requesting reviews after every service interaction so they can stay fresh and relevant.
Here are reasons buyers say that the recency of a review is important to them:
More accurate indicator of product/service quality (70%)
Makes me feel more confident about my purchase (54%)
Makes the review more relevant to me (53%)
If a company only had reviews over one year old, 62% of consumers would look for another company to do business with.
How to Fix It: Automate your review process using a tool like Tech Reputation. This reduces the time and cost of gathering reviews and helps to drive new reviews regularly. With the right automation, those reviews can also be automatically posted to your site.
You Don't Post Your Reviews on Your Site or Use Them in Marketing
Reviews are like gold nuggets of marketing power that can supercharge your lead conversions. Often, all a person needs to move off the fence is to read a review from another business owner that says how great your service has been for them.
If you leave your online reviews sitting on Google, Yelp, etc. then, you'll get some traction, but you could get so much more if you leveraged them in your marketing.
How to Fix It: Here are a few places to display your reviews:
Website, including service pages
Social media posts
Email newsletter
Postcard mailers
Signage in your shop
Read: "11 Places to Use Your MSP Reviews to Boost Their Selling Power" for more ideas!
You Never Reply to Reviews
Do you just let reviews come as they may, but never thank the person in a comment? You could come off as not being appreciative to someone else searching online and comparing you to a competitor.
You have to think like the person looking for your products and services. If I'm searching online for a computer repair shop and I see two local contenders, I'm of course going to look through their reviews.
They might both have customers that say nice things about them and have the same star rating. A deciding factor for me would be if one of them replied to their reviews with a nice message and the other one didn't. I'd be more apt to choose the one that showed they cared to thank their customers for a review.
The same is true for customers that might want to give you a review. If they see that you never reply, then they may just think it's not worth their time and never leave a review at all.
How to Fix It: Use a review tool that will notify you when you get a new review or someone comments on a review. This will make it easy for you to quickly respond without it taking up a lot of your time.
You Don't Ask for Reviews Because You Don't Want to Seem Needy
Some IT business owners avoid asking for reviews because they don't want to seem needy or like they're bothering a client. They may ask some one-time customers, but don't ask the long-time MSP customers that are exactly the type they want to get more of.
People actually like sharing their thoughts about the companies they do business with. Most are happy to give a review, with nearly 3 in 4 customers saying they've posted a review about a local business in the past year.
How to Fix It: There are ways to make asking for a review less uncomfortable. One way is to get some help crafting an email asking for a review. There are many email examples online that are friendly and don't seem needy at all.
This is another issue that can be solved when you automate the process. Once you have your nice, friendly review request email, you just insert that into the review automation, and every customer will automatically receive it.
Get Help Automating a Review Process Affordably
Word of mouth is like the sprinkles on a cupcake, they're nice, but you need a solid foundation to make up the cupcake itself. That solid foundation includes your content marketing, including a process to drive new reviews regularly.
Need some help getting started affordably? Tech Reputation can help you improve your lead outcomes with an automated process.
What is your biggest challenge with driving new reviews? Tell us in the comments.