Eye-Opening Statistics About Online Reviews That MSPs Need to Read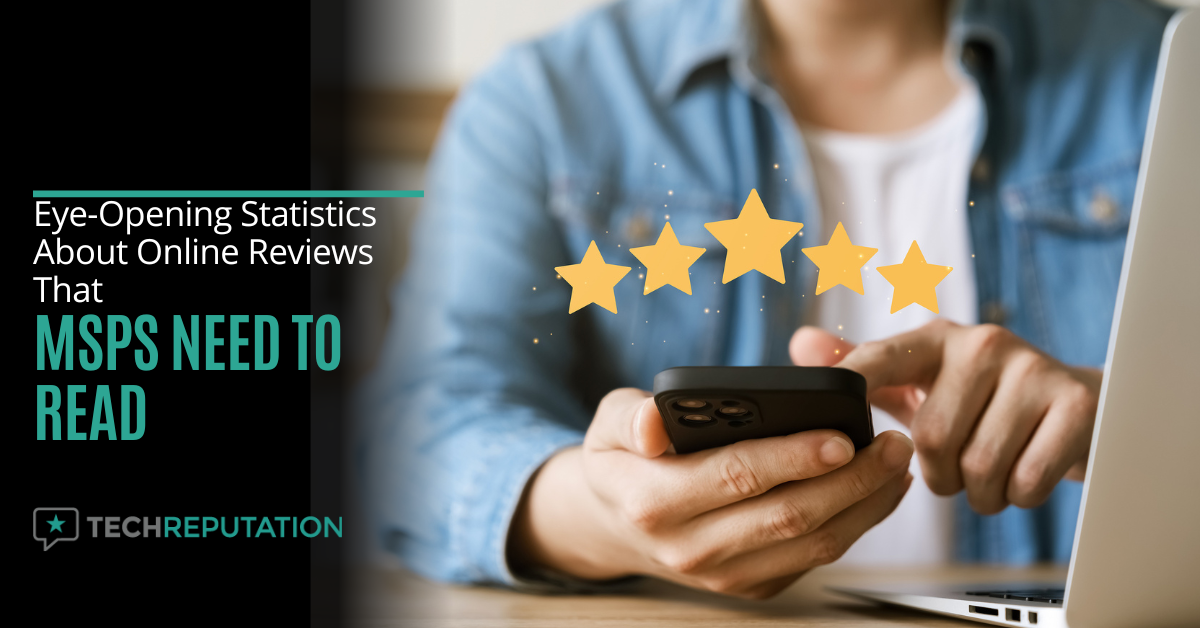 Online reviews are crucial for small businesses because they play a significant role in shaping the online reputation of a company. Most consumers seek out reviews when deciding what products to buy or which businesses to trust for various services.
Positive reviews can increase your visibility, attract new customers, and help establish trust with prospects. In contrast, negative reviews can mar your reputation, leading to a loss of trust, customers, and revenue.
Reviews can do a lot for you, but how many do you need? How low can a star rating go before it hurts you? What triggers encourage customers to leave reviews? We'll take a look at several eye-opening statistics that you need to know to shape an effective review strategy.
What Is the State of Reviews & Their Importance?
It turns out that a lot of companies study reviews to uncover trends and consumer behaviors. For this article, I'm pulling statistics from Podium's "2021 State of Reviews" and Birdeye's "The 2022 State of Online Reviews" reports.
These reports survey thousands of people, including consumers, SMB owners/managers, and enterprise business leaders to dig into the details of what makes reviews work, what makes them important, and more.
Some of these stats might just open your eyes to mistakes that you're making in your review strategy and what you can do better. A healthy review approach makes for more leads and sales conversions for your IT business.
Let's get started!
3.4 is the Minimum Rating Most Consumers Consider
How many stars you have matters. I know that whenever I search for something on Amazon, I automatically filter by the highest star rating to save time and reduce the risk I'll waste my money.
While 3.4 doesn't sound that great, it's the average bare minimum rating that people will even consider engaging with a business.
The fewer reviews you have, the easier it is for one mediocre review to tank your star rating. If you have a good review strategy and bring in fresh reviews each month, then one or two bad ratings will hardly cause a blip. So, the more reviews you have, the better your rating stability.
71% of Online Reviews are Written on Google
When requesting reviews, where are you going to have the most success? Not surprisingly, Google gets the lion's share of reviews with 71% of them being written on its platform. This emphasizes the importance of ensuring you have claimed your Google Business Profile and filled it out accurately.
What you may find surprising is that while Google has been trending up since 2016 in the number of reviews written, Facebook has been going in the opposite direction. In 2021, just 3% of reviews were written on the social media platform.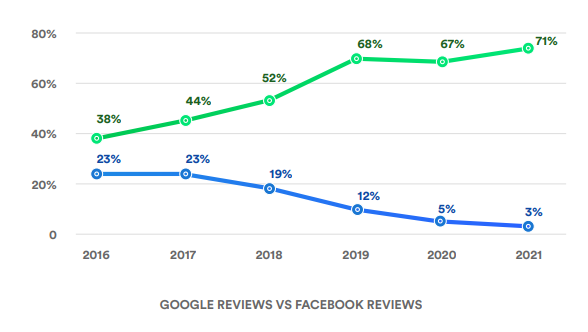 The graphic is from Birdeye's "The 2022 State of Online Reviews" report
Google Reviews Volume Grew by 23% from 2020 to 2021
How much do people like to review businesses? A lot, it turns out. In 2021, there were 23% more reviews posted on Google than in the prior year. This just goes to show you that people will write reviews if they are motivated to do so.
Most of the time, just asking them for a review is enough to motivate them to write one for your business.
35% of Consumers Will Leave a Review Half the Time When Asked
Do you shy away from asking for reviews because you don't want to "bother" your customers or seem needy? That could be holding you back. Thirty-five percent of consumers state they'll give a review at least half the time when they are asked to. And 12% will give a review every time they're asked.
Just think about that. If all you do is ask, you could raise your incoming percentage of reviews by at least 12% and possibly as much as 35% or more.
SMS Review Requests Get an Average 32% Click-thru Rate
What's the best way to ask for a review? The two most popular ways are by email (51%) and SMS (49%). If you're not incorporating SMS requests, then you could be missing out because SMS gets a better response rate than email.
Average Click-thru Rate on Review Requests:
Sent by email: 22%
Sent by SMS/text: 32%
This doesn't mean you should abandon email. After all, 22% is nothing to sneeze at, but it does mean that you may also want to offer an SMS notification option for your clients. You could then use notifications for repairs being finished, payment confirmation, and review requests.
56% of People Say They've Changed Their Opinion After Reading a Company's Review Response
How often do you reply to your reviews? Whether people review you on Facebook, Google, Yelp, or another platform, you should be responding to those reviews, both positive and negative.
It matters:
If you respond at all (it looks bad if you don't even bother)
What you say
How you say it (be polite and understanding)
One of the best ways to neutralize a negative review is to comment on that review with an offer to help. When others see that you're a stand-up company that wants to address a customer complaint, they'll think better of you.
When responding to positive reviews with a "Thanks so much! We look forward to seeing you again soon!", it gives a feeling that you have a great relationship with your customers, making others more likely to want to do business with you.
How do you know if there are reviews out there that you need to reply to? The best way is to use an automated reviews management system that will alert you and make it quick and easy to respond.
94% of Local Businesses Say a Reviews Management System Is Worth It
Before you think that signing up for review management software is an extra expense you don't need, you may want to think about this stat. Nearly every local business (94%) says that their reviews management software pays for itself.
Using an automated system saves time, keeps fresh reviews coming in regularly, alerts you to new reviews about your business, and more. The boost in reputation and resulting visibility on Google means more leads and sales that make the initial investment totally worth it for most.
50% of People Will Pay More & Travel Farther for a Business With Higher Reviews
People don't want to risk wasting their time or being disappointed. This is why they seek out reviews before they decide to buy from a business. And it turns out that good reviews can attract people that you might think are outside your service zone. Customers are also willing to pay more if they think they are going to have a great service experience.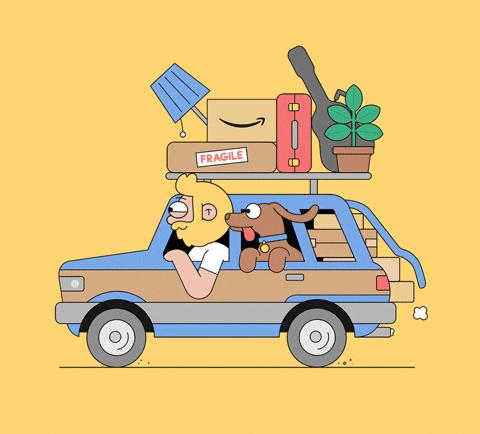 How do people know they'll have a great experience before they even do business with you? They read your reviews! Just another reason you should have a strategy to keep them coming in, while keeping your customer service standards high, of course.
Reviews Are 7.4x More Likely to Be a Factor in Choosing a Local Business Than Traditional Marketing
If you're marketing your local business, that's enough, right? You don't need reviews? Not quite! Reviews actually can bring in more leads than traditional marketing.
41% of consumers list a company's reviews as an important factor when choosing a local business, and people are 7.4x more likely to consider reviews over marketing when choosing someone to do business with.
46% of People Have Read a Review in the Last 3 Days
You might think that reviews are just sitting there gathering dust and might get read a few times a month. People are reading reviews much more than you may think.
In fact, most consumers have read a review within the past week. Here's a breakdown of how often on average people look at online reviews:
23% have read one in the last day
46% have read one in the last 3 days
65% have read one in the last week
85% have read one in the last month
28% of Potential Customers Have Looked Up a Business's Reviews While Outside Their Shop
If you think online reviews aren't impacting your walk-in business, you would be mistaken. 28% of people will stand or sit in their car outside a local business and pull up their reviews on their phone to decide whether or not they should go inside.
Not having reviews and having old reviews can be seen as negative by people deciding whether to bring their PC in for a repair or upgrade. Having fresh reviews that are easily pulled up on Google benefits both your online and offline prospects.
Leverage the Power of Review Statistics
Use the insights from these statistics to take a look at your current review strategy. Is it working for you? Does it bring in fresh reviews? Do you get alerted when a review is written about your company on Google or another site?
Taking time to ask these questions and improve your reputation approach can have a significant positive impact on your bottom line.
Need some help getting reviews coming in regularly? Tech Reputation can help you with a time-saving, automated process.
What's your biggest challenge with getting customer reviews? Tell us in the comments.