MSP Best Practices for Posts on Your Google Business Profile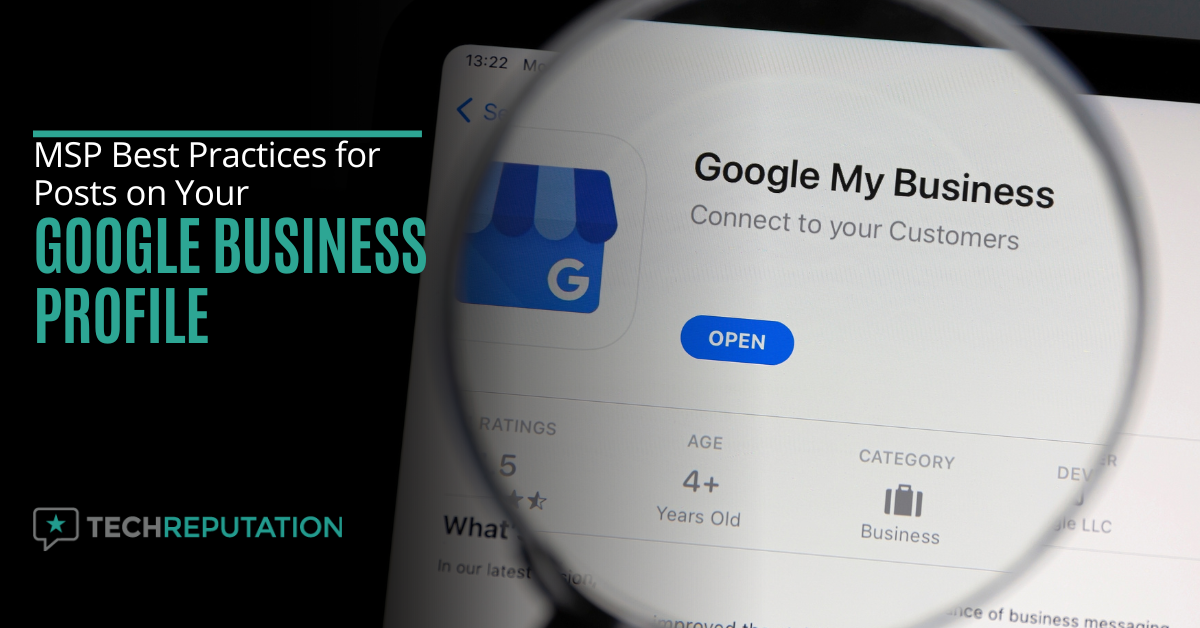 If you're a local business, having a Google Business Profile is a must. 64% of consumers use Google to search for local businesses, and there's no better way to jump to page one for a local search than a GBP.
But once you set up your business profile on Google, what then? Many IT business owners just leave it to do its thing, and never post updates. That's a huge, missed opportunity!
Google likes serving up relevant info to its users, and posting updates regularly keeps your business relevant and fresh. Read on to learn the best practices for posting updates to your Google Business Profile.
How to Post on Your Google Business Page
Most people search online for products and services. And when they want something local, they often turn to Google's local results, which are largely driven by the Google Business Profiles (GBP) of local retailers and service providers.
Sixty percent of smartphone users contact local businesses directly through the GBP click-to-call option.
If your Google Business Profile is stagnant, then there is a chance you could drop in the local map pack. You might also get passed over by someone choosing between you and a local competitor with a more updated profile.
Guess who loves fresh content – Google and your prospective customers! That's who. By leveraging your GBP when you do social media posts and when promoting sales or new services, you can keep searchers engaged. Google will also notice that you're taking the time to make their search results better by updating your page regularly.
So, let's get started.
How Do You Post to Your GBP?
Google changes the interface and terminology every now and then. You'll notice that it now refers to posts to your Google Business Profile as "updates." You get started going to Google, logging in, and clicking over to your business profile.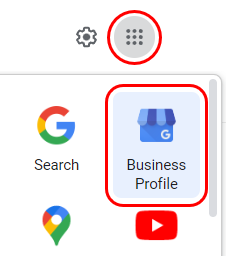 Things may have changed a bit since you last checked your business page. Google now keeps you on the search engine page, rather than putting you inside a separate area.
Click "Add update" to post a new update.

Now, you will choose the type of update you want to post. For sales or special offers choose "Add offer."
For events, such as a cybersecurity webinar or Microsoft training boot camp, choose "Add event."
For all other posts, such as your regular types of social media posts, click "Add update."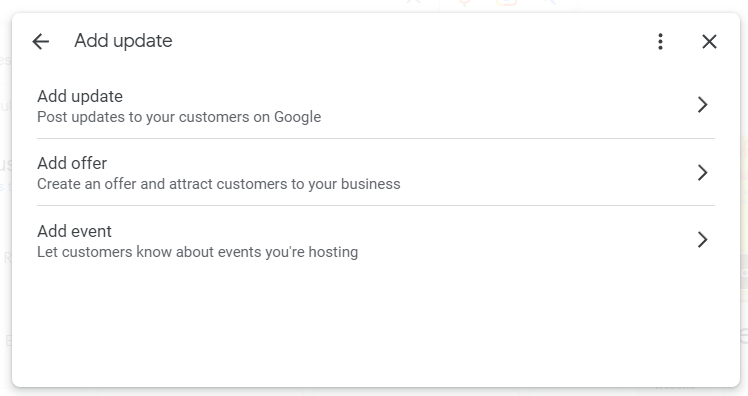 In this window, you can easily fill in the post text, choose a button label, link, and up to 10 images. (One is usually fine for a general post. If you're posting about a new product, you may want to use more.)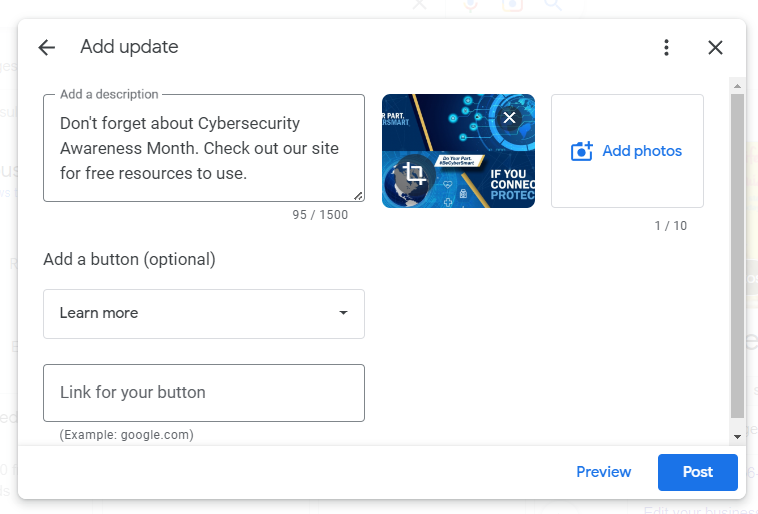 You can click to preview your post, then click to post. It's that easy!
How to Use GBP Updates to Your Advantage (Best Practices)
Just like anything else, you can do the bare minimum, or you can follow best practices to get better results. Marketing is about consistency more than anything else. Yes, you need an engaging message, and pictures always help grab attention, but to see the best results, you need to feed fuel into your marketing engine regularly.
This means being consistent in all the types of content you put out, including regularly requesting reviews and then posting them, putting out blog content monthly, and posting regularly on your Google Business Profile.
If you want to stand out from those other MSPs and IT providers on a local Google search in your area, here are some best practices you can use to help your profile shine bright.
Post Using the Rule of Thirds
The rule of thirds in social media posting means not making every post a sales pitch. But you should promote your products and services a little. How little? About 33% of the time.
The rule of thirds goes like this:
1/3 of your posts should be personal. This doesn't mean you have to share all your dark secrets with potential customers, it just means making them less "corporate" and more personal coming from you and your team. These posts are about getting to know those that follow your business. You're building trust in these posts.
1/3 of your post should be helpful/interesting. For these posts, you can share resources of interest, such as a post from CISA about cybersecurity or from your newest blog article on Microsoft 365 features. You can also leverage links from other sites to share here. You're positioning yourself as a helpful resource and technology pro in these posts.
1/3 of your posts can be promotional. For the last third, you should promote a product, service, or special offer you have going. After all, people would most likely come across your company because they were looking for technology products or services, so promote what you can offer in these posts.
Use an Image to Grab Attention
Whether you're posting a blog, social media post, service page, or Google Business Profile update, you should include at least one image. Content that includes an image gets an average of 94% more views than content without any visuals.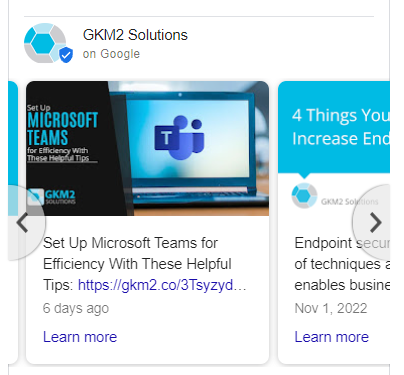 There are plenty of free sites where you can find quality images to use and that allow you to use them for commercial purposes. If you have a subscription to Microsoft 365, you can also tap its stock photos for some pictures to use with your posts.
Get some ideas of where to get photos.
Use All Three Post Types
As I mentioned in the how-to section, Google gives you a choice of three different types of posts. Make sure to use them all, when relevant. Don't just use the general update post when you have a sale or are hosting an event.
The three post types are:
Choosing the respective post type gives you more options. For example, when you choose "Offer," you'll be able to give your offer a start and end date. Click "Add more details" and you can add more details and even include a coupon code and link to redeem the offer.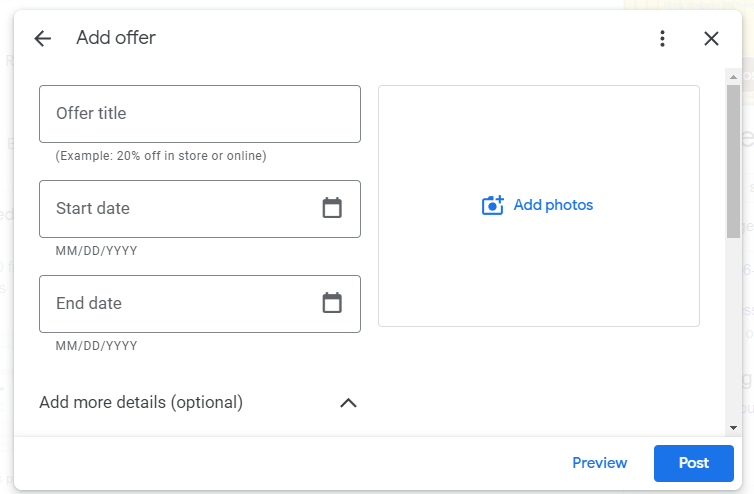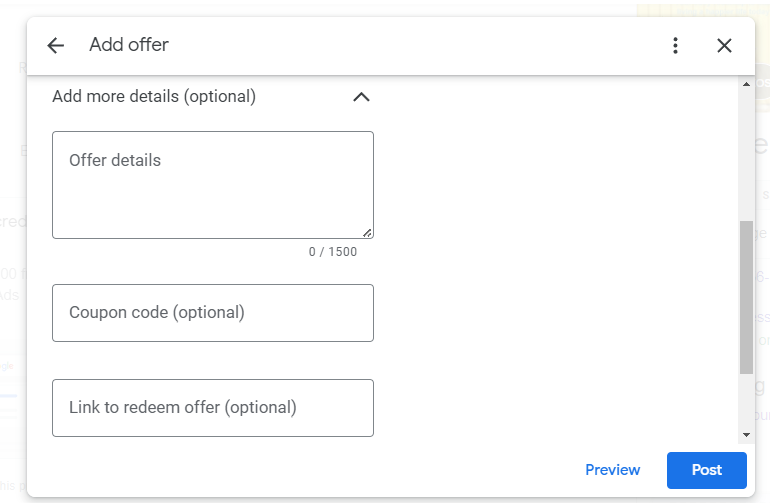 When you add an event, you can include the start and end dates, start and end times (perfect for webinars or in-store classes), and additional event details.
Be Relevant & Choosy
Since your Google Business Profile posts show up at the bottom of your profile on Google, you want to keep your posts relevant to the audience. Also, be choosy about which posts you share here. You may not want to post all your social media posts on your GBP.
Think about the difference in audience. People that find your business on Google may not know your business yet. They are largely actively searching for technology support or products, rather than hanging out on Facebook while relaxing on the couch.
So, you may want to keep these posts strictly relevant to the audience. For example, maybe don't share the post that followers on LinkedIn loved with your dog dressed up as an IT technician. But do share posts about the helpful articles on your MSP blog and posts highlighting reviews or case studies.
Use the Call-to-Action Button
In the window where you create your post, you'll notice "Add a button (optional)" with a dropdown underneath. Always add a CTA to your posts to direct searchers to your website. You can use your general website link, a service page link, or a link to a blog article that the post is promoting.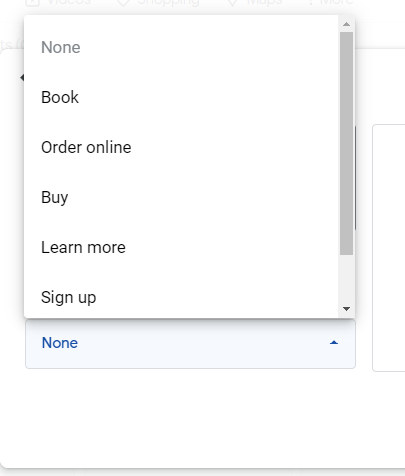 You'll get several options and can choose the one that best fits the post and CTA it should have. For example, if you are promoting a managed services plan, you could use "Sign up." If you're posting a blog about cybersecurity assessments use "Book" so people can book a free assessment. If you're unsure, you can default to using "Learn more" with a link to a relevant page on your site.
Post Consistently
When you post updates to your Google Business Profile consistently, people will see you as more relevant than a business that doesn't. The date of the post is shown below it, so one that says "3 days ago" is going to make the business look more engaging than one that has a date from six months ago.
You can ensure you post consistently by putting GBP on your calendar for a certain day each week. You can also use a social media or reputation management service to take care of the posting for you.
Certain social media posting services will allow you to connect your GBP along with social media sites. Two that I saw advertising this feature are SocialBee and SocialPilot.
Regular Attention to Your GBP Posting Brings Consistent Lead Results
Posting consistently on your Google Business Profile doesn't have to take much time at all, especially if you already put out social media posts regularly. Use this GBP feature to position yourself as a local expert, promote sales and events, and keep your profile fresh and engaging.
Looking for help getting going with your Google Business Profile? Tech Reputation can assist you in setting up and maintaining a profile that drives revenue.
In what ways do you use your Google Business Profile? Tell us in the comments.