11 Great Tips for Using LinkedIn to Gain Leads & Business Reviews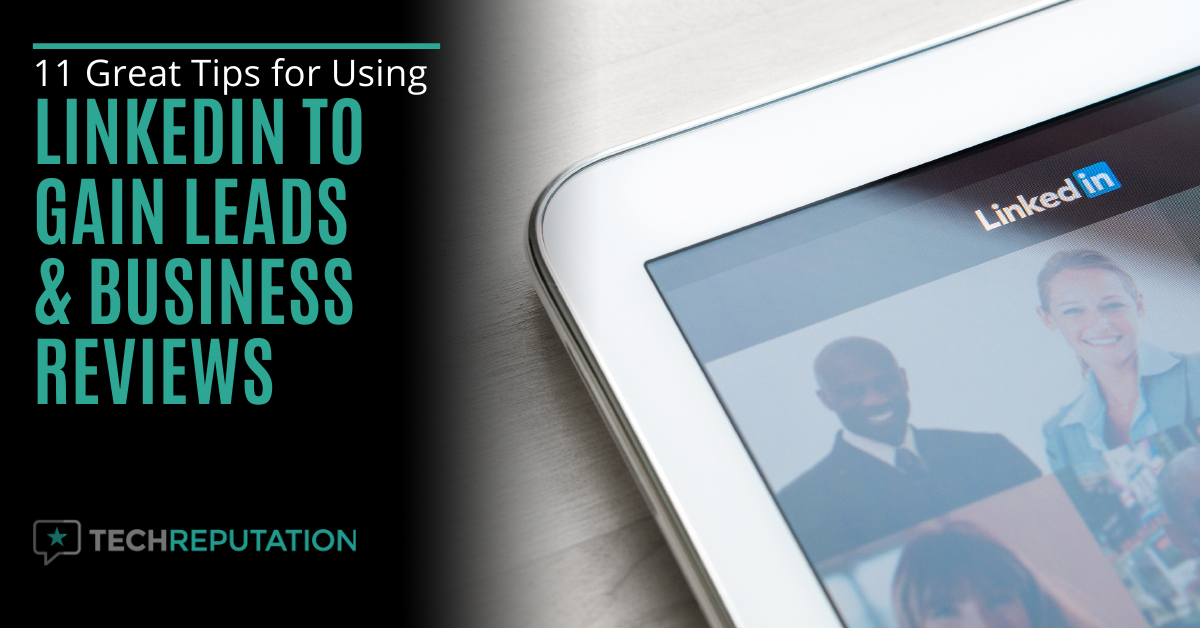 When it comes to B2B marketing, LinkedIn is hard to beat. It's the only major social media platform dedicated specifically to business connections. This makes it a great place to boost your company reputation, gain more leads, and get more reviews.
How do you do that? By knowing some of the tips and tricks of leveraging the many features that the site offers to foster connections with other professionals.
Social networking is a bit different on LinkedIn than on Facebook or Instagram, and we'll take you through some of the things you can do to promote your IT business and make the most of your connections.
Power-Up Your Reputation & Profits Using LinkedIn
LinkedIn is THE place to be if you offer products or services to other companies. It's the world's largest online professional network, boasting over 774 million members in over 200 countries.
It helps foster several of the important elements of any good business relationship, including trust and personal relationships.
According to a study by LinkedIn, trust tops the list as one of the elements that strengthen vendor and buyer relationships. 70% of would-be buyers say that LinkedIn is one of their most trusted sources of information.
So, by actively adding content to and participating in the discussions on LinkedIn, you help build and strengthen your own relationships and earn a foundation of trust.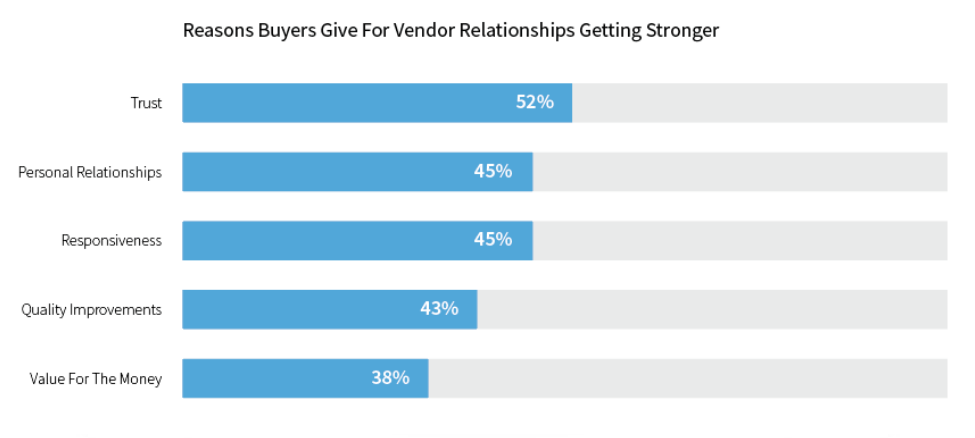 When you first start taking a look around LinkedIn, it can seem overwhelming because there are so many different things you can do there besides just add your profile and business page and make a post.
Just a few of the many things you'll see right away are:
The ability to send and receive InMail/Messaging
LinkedIn Groups
Job Postings
Services Search
Posts & Articles
Events
Just like anything else, if you take things one step at a time, you can quickly get your profile up and going and begin taking advantage of all the marketing and lead-generating features on LinkedIn.
4 out of 5 people on LinkedIn drive business decisions in their organizations.
Fill Out Your Personal Profile & Business Page
The more details you add to your personal profile and business page, the more attractive and "trustworthy" it appears to others.
For example, most people have been programmed to look suspiciously at a social media profile that doesn't have a profile image or cover image added, because this can indicate a scam account set up for social phishing.
Take the time to add an attractive cover image that highlights your business to your business page and your profile. Add your profile picture and use your logo for your business page's profile.
LinkedIn has a tool that walks you through the profile process so you can hit all the pertinent areas, such as achievements, services offered, etc.
33% of B2B decision makers research purchases in advance on LinkedIn, so you want to be sure your business page shines and reflects the same look and feel as your business website.
The more you fill in your profile, the more trust you garner from those researching your company.
Add Skills & Accomplishments to Your Profile
Many MSP providers are the face of their company, thus the skills and accomplishments you list on your profile can tie directly to your business and earn you more customers.
Highlight your skills and certifications that are technology-related, as well as any you have that might be complementary, such as training or teaching. Once you add skills, you'll be able to request endorsements (which we'll get into next).
Skills are usually one or two words, such as:
Cybersecurity
Public Speaking
Training
Network Management
Computer Repair
Accomplishments are another section that you can add to your LinkedIn profile, and these differ in that they're more of a description of a certain type of achievement you've made.
For example, it can be a case study of a successful digital transformation project you accomplished for a client. It can also be any publications or media where you had your work highlighted.
Accomplishment types that you can add to your profile include:
Publication
Patent
Course
Project
Honor and Award
Test Score
Language
Organization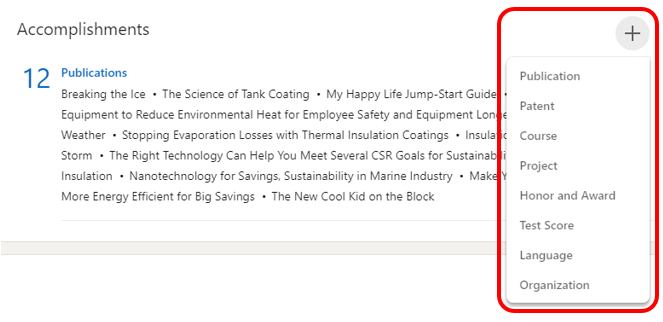 By adding your accomplishments to your profile, you boost your personal and business reputation, which in turn helps your lead generation.
Enable Skills Endorsements
As I noted, one of the reasons to add your skills is so you can then get skills endorsements. These add social proof that you really do know what you're doing.
For example, you can post that you have a computer networking skill, but when 10 other people endorse it, meaning they say you are skilled at computing networking too, it elevates your skill to another level for those viewing you profile.
Potential customers reading your profile will see that several others say you're a skilled IT professional. So, skills endorsements are another type of business review.
While there is no mechanism on LinkedIn to request a skills endorsement, once you add skills, you can use other methods to ask your colleagues to endorse you. Once you get a few skills endorsements, others are likely to follow because the option to endorse you will start to show up on your connections' timelines.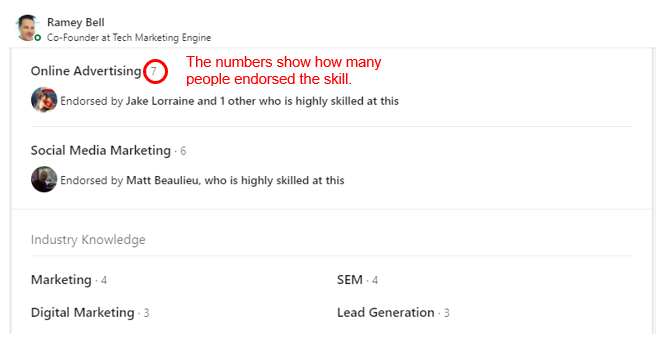 Request Recommendations
Unlike skills endorsements, you CAN request recommendations. Recommendations differ in that it's a written recommendation from someone. Where a skills endorsement is a "thumbs up" vote on a certain skill, a recommendation is a full reference provided by someone.
This is akin to a testimonial, where people can write a detailed endorsement and reasoning for why they recommend you and your IT business.
How to request a recommendation:
Visit the profile of a 1st-degree connection that you'd like to request a recommendation from.
Click the More… icon at the top.
Select "Request a recommendation."
Fill out the information on relationship and position and click Next.
If you like, add a personal message (it's a nice touch to add one!).
Click Send.
You can also request recommendations from your own page. Here are the details on how to request recommendations from LinkedIn.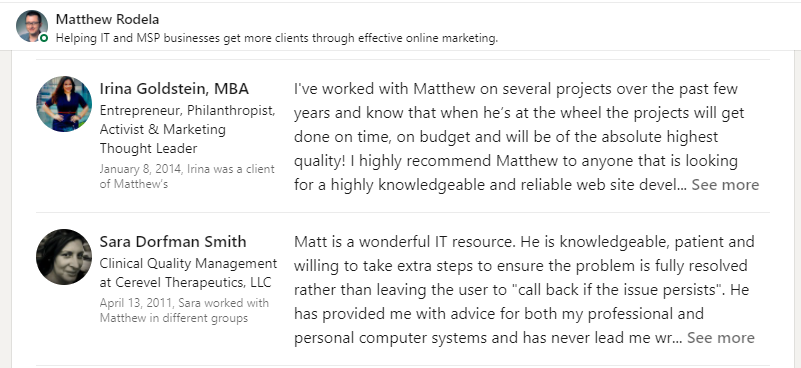 Post Articles on LinkedIn
You can gain visibility for yourself and your business by posting articles on LinkedIn. These differ from posts in that they are more like blog post-length articles and can be seen and searched by anyone online, not just your LinkedIn connections.
Articles can help you gain recognition as an authority in your industry and are an SEO booster. Be sure to use the same keyword tactics when you post LinkedIn articles because they are picked up by Google and other search engines.
You can start an article on the home page by clicking on "Write article" beneath the posting area.

Make Connections
Of course, the reason you're on social media is to connect with colleagues, clients, and potential clients. Take the time to make connections by searching for people you know first and then sending a connection request.
Once you add people you know, branch out to clients, and then other businesses in your area that you'd like to connect with and possibly add as clients in the future.
Participate in Technology-Related Groups
There are many different types of groups on LinkedIn that you can join. The benefit is that you connect with those outside your circle when you participate in a group. You can also position yourself as an expert by joining a business technology or IT security-related group and contributing valuable insights.
Groups can also be a great way to connect with other IT businesses around the world to swap stories, tips, and more.
Follow Companies In Addition to People
Don't only follow people on LinkedIn, you also want to follow company pages. This can help you in a few different ways, such as:
You may see when a company is going to be planning an IT transformation and reach out.
A company may see that an IT business just followed their page and reach out to you for a service need.
You remain connected to what's going on in your community by connecting to other local businesses.
You get ideas for the types of posts that other companies are using for their own LinkedIn marketing.
Add Your Business to the Service Provider Search
Not too long ago, LinkedIn added a new service provider search feature. Make sure that you add your IT business to this service directory so you can be found more easily by those companies looking for technology services.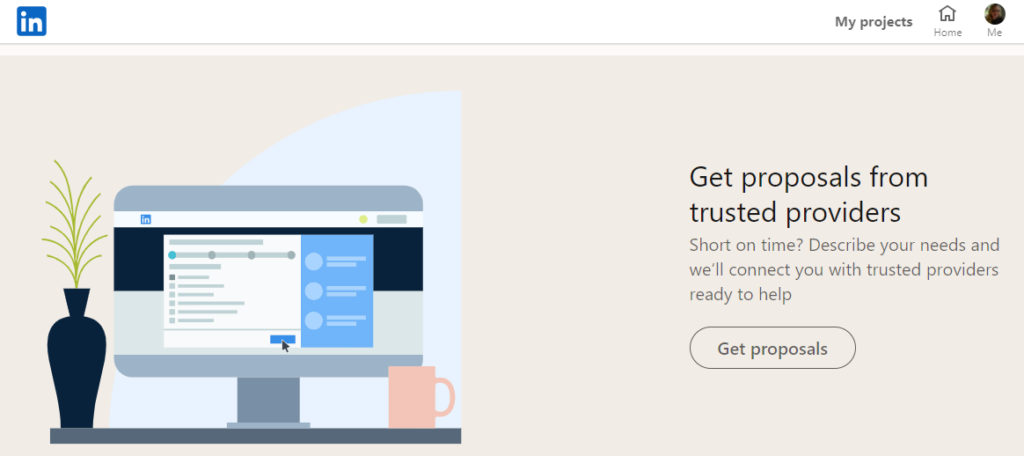 Having your business added to the service search directory doesn't cost you anything and it can be a great way to market your company and gain new opportunities to provide quotes for IT needs.
You should see an icon at the top of your LinkedIn homepage for "Open to," then click "Providing services." You can find full instructions here.
Post Regularly on Your Personal & Business Pages
As with any social media platform, the more you post, the more you can gain when it comes to followers, recommendations, and leads.
Add LinkedIn to your regular social media posting schedule and post on a specific schedule for both your personal and your business page.
If you're short on time, you can subscribe to a service that creates and posts your social media content for you. For example, this is one of the services offered at sister site Tech Blog Builder.
Engage With Others With Helpful Comments
If you see a post in your timeline from a company you do business with, comment, congratulate, etc. and basically, add to the conversation.
Commenting on posts adds to your positive business reputation and gets you noticed not only by your connections but their connections that are reading those posts and comments as well.
Use the Power of Linked In to Boost Your Reputation
When you utilize the full potential of LinkedIn, it can be a powerful tool to boost your business reputation, reviews, leads, and revenue.
What do you like or dislike about LinkedIn? Share your thoughts in the comments!