7 Benefits of Publicly Responding to Reviews of Your MSP Business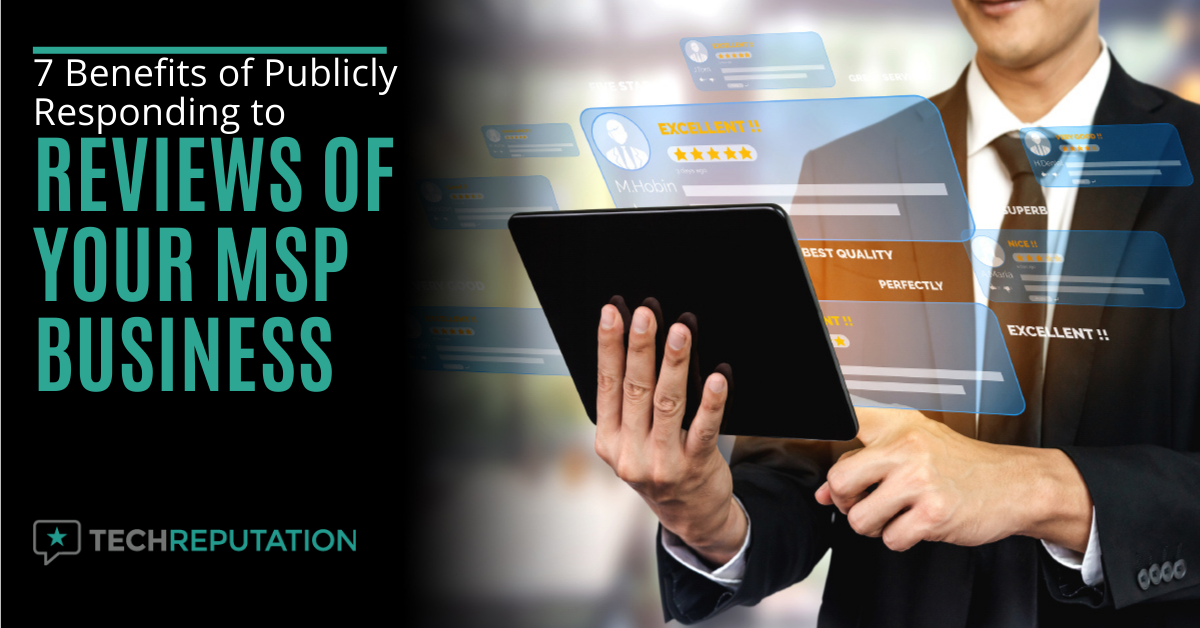 Some reviews feel great to respond to, while others might make you want to close your browser window and forget you've ever seen them.
But whether a review for your MSP business is positive, negative, or neutral, there are plenty of reasons you should respond professionally to all of them.
You might be surprised at just how much weight a review response carries to those reading reviews. We'll go through why you should make this a habit and how your business can benefit.
Do I Really Need to Respond to All My Reviews? (Yes! And Here's Why)
Online reviews are pretty much the recommendation engine of the internet. Nine out of ten consumers read reviews before deciding to make a purchase.
It's great to have positive online reviews that help drive leads and sales, but if you're just leaving them out there to do all the work, you're missing a big marketing opportunity.
Likewise, leaving negative reviews to fester unanswered can reflect poorly on your company, even if you've done nothing wrong.
Taking the time to respond to reviews, both positive and negative, offers multiple advantages that work together to supercharge your MSP marketing engine.
Here's why you need to be seeking out your reviews and responding to each and every one of them.
Customers Expect It
53% of customers expect a reply to their review. If you don't reply, someone that gave you a great review, might feel slightly less enamored with your business. Those that write negative replies may just continue to get angrier, feeing that they're not being heard or acknowledged.
When companies don't respond to reviews, it can speak volumes. In essence, not responding is a type of response, at least in the eyes of those that wrote the review and new potential customers reading your reviews.
Not responding to a review can say to someone shopping IT firms:
This company doesn't care enough to respond
This company may not have good customer service
The company must've wronged this person because they didn't respond to their negative review
It Can Help Your Rankings for Local Searches on Google
Local ranking algorithms for Google have multiple moving parts, and one of these includes review activity.
The more you respond to reviews, the more review activity your Google My Business reviews page will have as people respond back to your replies.
According to Moz, review activity is a ranking signal both for the Local Pack business search ranking and for localized organic search ranking.
Review ranking factor percentage:
Local Pack: 15.44%
Localized Organic Search: 6.47%
So, by responding to reviews, especially to Google reviews, you're increasing your chance of a good local search ranking position.
You Can Turn Lemons into Lemonade
By honestly and politely responding to a negative review, you actually have a chance at winning back that customer. They may even edit their review if you resolve an issue to their satisfaction.
Often people write negative reviews in the heat of the moment and out of frustration. They just want to be heard.
A surprising 95% of unhappy customers will return to a company if their issue is resolved quickly and to their satisfaction.
By not responding to negative reviews, how many customers are you losing for good that could've been saved?
This is one of the reasons that it's so important to monitor your reviews either individually or using a review engine that can bring them all to you from across different sites. By knowing right away when someone posts a negative review, you can reply quickly and often turn lemons into lemonade.
Build a Strong Business Reputation
When you reply to reviews, you're building your business reputation and showing customers that you care.
89% of people read a company's replies to online reviews. Seeing that you respond to both praise and concerns makes your company more trustworthy and exemplifies excellent customer service.
You can also help negate a negative review in someone's mind, because they see that you care and are responsive, making them more likely to believe the positive reviews than a negative one.
Attract New Customers
You get a chance to speak to potential customers that may be looking for MSP services and checking out different site reviews before they contact you directly.
They get a feel for you and what your company stands for before even venturing to your website. For some, this might be enough to move the needle to your company over a competitor when they're looking for an IT provider.
Think of every reply not only as a chance to speak to the person that wrote the review, but also to all those other people out there reading review comments before they buy.
Can Increase Your Overall Rating Score
Responding to reviews can give you a boost in your overall star rating score. This is because replies to reviews encourage others to write reviews themselves.
In a study of hotel reviews on Trip Advisor, it was found that when reviews were replied to regularly, the overall number of reviews written rose 12%, and the average star rating rose by .12.
While that may seem like a slight increase, every point counts when it comes to your star rating. A bump of .12 could take a business from 3.88 stars to 4.0 stars, which is in the "sweet spot" for purchase conversions.
Gives You a Chance to Be the Hero
When you respond to any type of review, you get the chance to be a hero to the person that posted the review and anyone else that may be reading it.
For positive reviews, you're acknowledging your appreciation that someone took the time to say nice things about you online. For negative reviews, you're showing that you care enough to try to make things right and to try to solve whatever issue that person may have.
Either way, if you do it right, you come off looking good and building a strong positive reputation for your MSP business.
Tips for Responding to Reviews Like a Champ
How you respond to reviews is important. If you're getting into online battles with negative reviewers, then replies are going to have the opposite impact to what you're looking for.
One "I told you so" type of reply to a customer who gave a negative review may bring a brief moment of vindication, but it can drive potential customers away for months later.
Here are some tips on the right way to respond to online reviews.
Don't Just Respond to the Negative Reviews (or Vice Versa)
Try looking up any business on Google with a mix of reviews. How does it look if they only respond to either positive or negative ones?
If they're only replying to the negative reviews, then it seems like they're not appreciative of the positive ones (because they must've had to scroll past them to get to the negative). If they only reply to positive reviews, it makes them look like they're hiding something.
Always Thank the Person for Their Review
The first part of your reply should always be a note of thanks for taking the time to write a review (Yes, even the negative ones!). This shows that you understand that they went out of their way to comment on your business. Plus, everyone likes to be thanked for their time and effort.
Acknowledge Their Feedback
Whether positive or negative, make a short note acknowledging it. For example, "We're so glad to hear that our backup and recovery service is making a big difference for you!"
When you acknowledge what someone wrote in a review, they feel heard and it shows that you're not just copy/pasting a standard reply for everyone.
This also gives you a great opportunity to show your personal side, making you a "person" not just a "brand" to those reading your response.
Here's a great example from a flower shop on how they personalized their reply to a positive review.
Be Polite and Positive
Even if someone has unfairly written a negative review, the last thing you want to do is get combative and defensive. Take a moment if you need to for collecting your "cool" and then reply politely and positively.
Here is another example of a good reply, this one to a somewhat negative review, that makes the flower shop look friendly, polite and like they truly care.
PS: This is also a great example of the next tip, which is to keep replies short.
Keep Replies Short & Sweet
The review page of Google or Yelp is not the place to get into a long conversation with a customer.
Replies should be short, and if there is an issue that needs to be solved, they should take the conversation offline.
If you know the customer and already have their contact details, you can use the type of reply in the image above that notes your company will be contacting them.
When you don't know their contact details, provide your business contact information and ask them to please reach out so you can do your best to remedy the situation.
Gain More Traction from Your Reviews
The simple act of regularly replying to your online reviews can have a huge impact on your business when it comes to site traffic, reputation, and revenue.
Do you have a "lemons to lemonade" review story? Share it with us in the comments!