11 Places to Use Your MSP Reviews to Boost Their Selling Power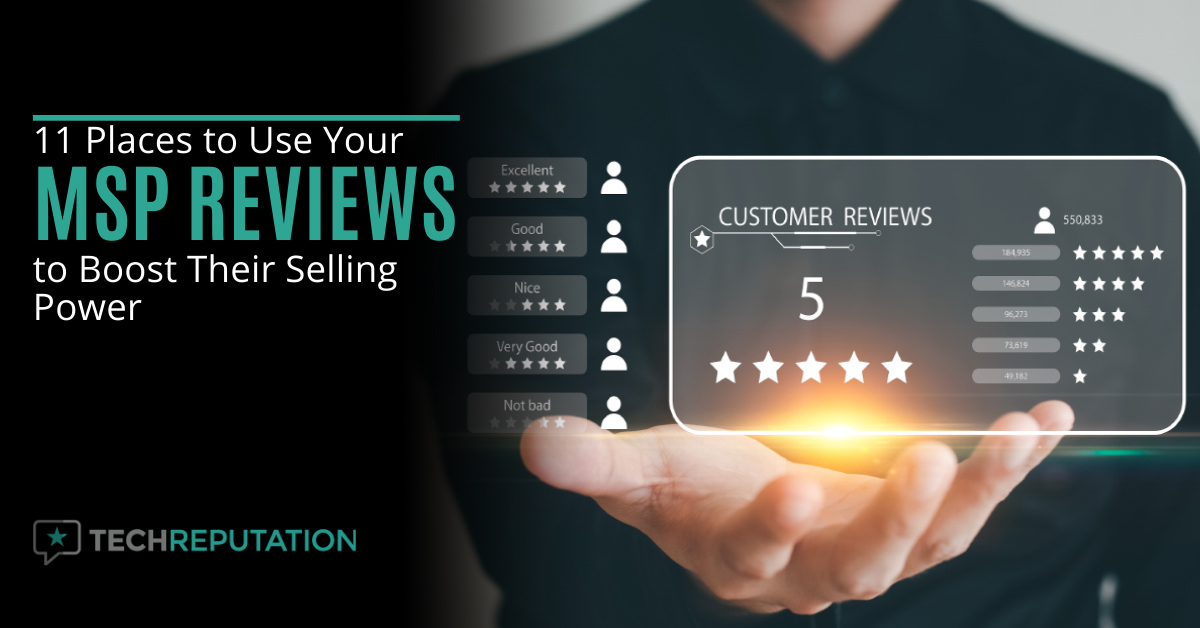 Reviews give companies what's known as "social proof," which can be a powerful psychological trigger that influences people to purchase your products and services because others had a great experience.
With 93% of people saying that reviews influence their buying decisions, getting one is like finding a "magic bean." Only it can grow your sales to the sky rather than a beanstalk.
A new customer review is something that can be very powerful when it comes to driving sales. But that's only if you let it shine so potential customers can easily find it.
Where Can I Use Reviews to Help Grow Sales?
Reviews for your MSP business are more trusted than even the best marketing copy. People want to hear from others that worked with you about how your service was and whether they had a good experience.
It's become a normal part of the purchase process, whether buying cybersecurity services or a new pair of shoes, to first look up the reviews. 79% of consumers say that they trust online reviews as much as personal recommendations.
Reviews are a big influence on both consumers and businesses, with 92% of B2B customers being more likely to purchase your services after they read a review about your company.
That's a lot of marketing power packed into online reviews, but how you use that power is up to you.
Do you let reviews stay on the review platform only? Do you highlight them on social media, but then they're forgotten once the post gets a day or two old?
The better you leverage your reviews and deploy them in multiple places, the more "sales magic" you'll get from them.
Here are several places you can use your MSP reviews to boost their selling power and your bottom line.
Service Pages
The pages where you advertise your services (managed services, cloud services, etc.) are meant to be one of the main places people convert to a lead or sale.
You may have strong marketing copy on your page that explains your great services, but if there are no reviews there, it may not be enough to get a conversion on the first visit. The person might feel they need to do more research first.
Adding reviews to your service pages can boost their conversion capabilities and result in a faster buying decision. Try to choose reviews that match the service being described, if possible.
Tips for any reviews you add to your website:
Consider using a review carousel that displays several reviews. Research shows that the chances of a product or service getting purchased increases by 270% when it has at least five reviews.
Bring in reviews from Google, Yelp, and other sites. Consumers don't trust reviews that you post on your site as much as those they see are from a third-party site, like Google. But that doesn't mean you can't bring those reviews to your website.
Here's an example from Connect2Geek of getting the "best of both worlds" by showing the source of the review with an icon when displaying it on your site.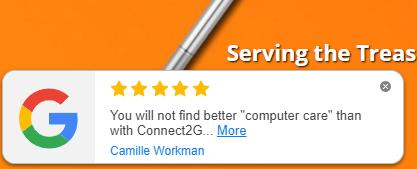 Example from Connect2Geek of Google reviews displayed on a website.
Landing Pages
If you have specific landing pages that you've set up for your marketing campaigns, adding some reviews to these can help close the deal with a prospective lead.
You only have about 7 seconds to make a good impression and keep someone from clicking the "back" button, so adding a review to the top of your landing page can entice someone to keep reading further.
Website Home Page
Your home page is one of the most important pages of your website. It's generally where most people will land when they visit your online presence, so you want to capture their trust right away.
Using some of your reviews or a reviews carousel on your home page can help you do that. Offering social proof that you're a good IT provider to work with can increase the number of conversions and conversion assists that are triggered from your home page.
Social Media
Social media gives you a way to shout out, "Hey, we just got this great review!" You can get your review in front of followers right away and also give a mention in thanks to the client that gave you the review.
When posting reviews on social media, here are some tips for making the most of them:
Keep the Message Short: If the review is rather long, take a snippet from it and then put a link to the full review with a "Read more…"
Use Images or Colorful Graphics: Content that has an image can get 94% more views than text only. Choose a colorful background and/or use the same background image for all your reviews for consistency.
Here's a social media review template idea you can grab and use if you like.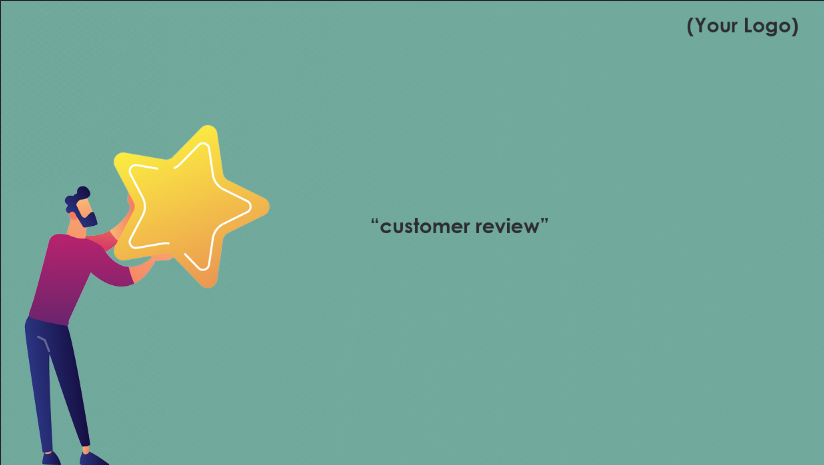 Postcards & Other Snail Mail Marketing
Although digital marketing has become the norm, traditional marketing can still be an important lead generation tool for local businesses.
Whenever you create postcards, flyers, or put an ad in a local "coupon/shopper" type mailer, look for review snippets you can add.
Adding a review to your snail mail marketing can significantly increase the chances that you'll get some hits back that turn into sales.
Google My Business
Google is the most popular online review platform, with 59% of consumers using it to read business reviews. You want to make sure you've set up a Google My Business account so you have more control over how your reviews are displayed and can include your company details next to them.
Another way to get more boost from reviews on GMB is to use the tool's posts feature to create a post and highlight one of your new reviews.
Here's an example of GEEK911 making the most of their Google and GMB page.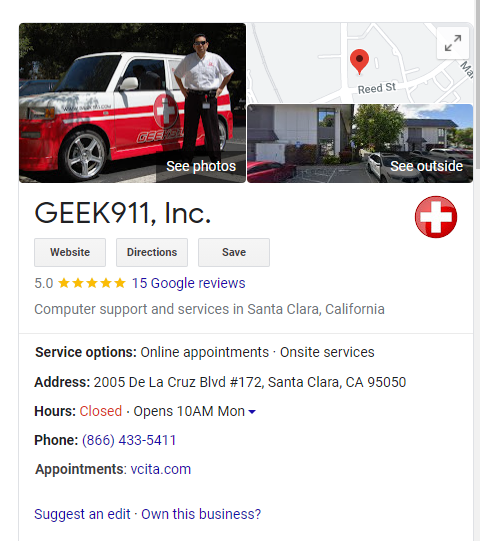 GEEK911 on Google My Business
Local Citation Listing
There are other sites beyond Google My Business that are considered local citation listings. These are sites that act as a directory of businesses and may have you listed even if you don't know it.
Local citation sites include Manta, The Real Yellow Pages, Bing Places, Yelp, Yahoo Local/Yext, and more. Many of these sites allow you to "claim your listing" and then post a small bit of content.
Posting your reviews here can help you drive more traffic from these online listings by enticing someone that may have unexpectedly run across your company to visit your website and find out about your services.
Learn more about leveraging local citation listings in your marketing.
In-Shop Signage
Reviews make a great callout on local in-shop signage, such as posters, desk toppers, or banners.
A new customer coming in can immediately feel more at ease when they see that other customers are raving about your service. Posting a review on an in-stop sign can even prompt a client that came in for a virus removal to ask you about another service that a customer review highlights.
Email Newsletter
Reviews are great content to add to your email newsletter that goes out to clients and leads. They can get more traction in a newsletter because you have a set audience that you know gets your mailing, rather than having to wait for someone to discover them on your site.
Pro Tip: Add two things below the review:
A link to the company that gave you the review by adding something like this, "For awesome floral arrangements, check out XYZ Flowers."
A link to your GMB or another review site so someone can easily click to give you a review.
This tactic rewards the customer that gave you the review and can get you more reviews. When current customers see you highlighting clients that reviewed you it can be a prompt to click the link to review you as they're reading your email.
Blog Posts
Reviews are a great addition to blog posts and can add additional social proof that you're an expert in the topic being discussed. Try to match your reviews to your blog post topic to make it even more impactful.
For example, if your blog article is about ransomware, if you have a review that notes your cybersecurity expertise, use that one to give that post more lead-converting power.
Company Videos
Videos are one of the hottest marketing tools right now. People retain 94% of a message when watching it on video as compared to just 10% when reading it in text only.
Sprinkling in a review or two along with your video on cloud services or password security, especially if you do it right before the call-to-action, can help your videos capture more leads and sales.
Your Reviews Are Meant to Be Shared in As Many Places As Possible
Don't let your reviews sit only on the 3rd party review site. Wield them wisely by using them throughout your other content to gain a serious advantage and improve your conversions from multiple channels.
Where do you share your reviews? Join the conversation in the comments!