What's the Best Way to Clean Up Our IT Company's Google Search Result?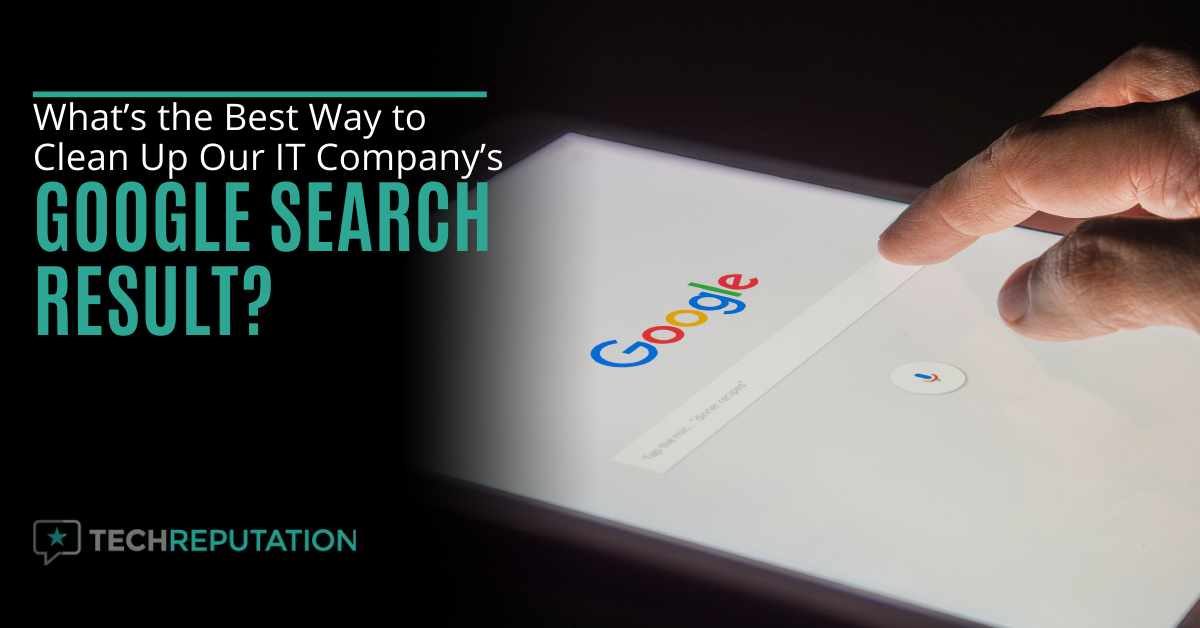 Noone enjoys Googling their business and discovering negative results glaring out from page one. If potential customers are researching your company, bad results can drive them away.
It can feel like you have no power over what Google chooses to rank on its search results pages. However, there are some things you can do to clean up bad results and replace them with more positive ones.
We'll go through several white hat tactics that can help you make a better first impression and gain more leads as a result.
Things You Can Do to Positively Impact How You Appear in Google Results
There's a saying that is already becoming old in internet years, which is "Never Google yourself!" But if you're a business, you can't afford not knowing what comes up when a potential customer is checking you out online.
Whether it's a damaging review at the 3rd position on a search result or an embarrassing photo you posted years ago, you can't hide from a bad search result.
It's best to know what they are and address them head-on to improve your business reputation.
Because whether you know about them or not, your customers and leads most likely do. Not addressing negative search results that appear when your company name is used as a keyword can be costing you sales dollars every week.
In a study cited by the Digital Branding Institute, it was found that negative Google results directly impact how many leads you bring in.
The study found that:
1 negative result can cost a company 22% of their leads
2 negative results can cost a company 44% of their leads
3 negative results can cost a company 59% of their leads
4 negative results can cost a company 70% of their leads
Having positive search results, especially on page 1 and 2 of Google make a big difference in how many leads your marketing efforts will be able to generate. You could be spending time and effort to drive leads to your site, but as soon as they Google your company name, they run for the hills.
Here are some ways you can clean up your Google results and improve your chances of capturing more leads and customers.
Identify Problematic Search Results
As I mentioned, you don't want to be in the dark about negative results related to your company that have made their way up the SERPs to a page 1 or 2 position. Set a recurring calendar item to Google your company at least once per quarter.
You need to see what your customers see when they do a Google search on your name or your name + another related keyword. Some of the search terms to use are:
(your company name)
(your company name) + review
(your company name) + reviews
(your company name) + scam
(your company name) + bbb
Search using incognito mode as well, just to see if that brings up any results that you didn't see when non-incognito.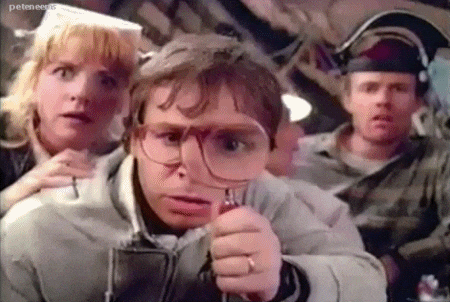 I'd recommend you look at page one and page two of Google, as most users don't even venture past page one. However, when you have time, it's good to look back a few more pages, because results on other pages can potentially make their way to page one over time.
Identify any problematic results that you see so you can research them further and formulate a plan to remove them if possible or at least bump them out of page 1 and 2 search positions.
Visit Negative Results & Formulate a Remediation Plan
Next, you'll want to put on some soothing music and detach emotionally, and research those negative results a bit more. It's never fun to read bad things about yourself or your company. But this is necessary if you want to push those results off the first page.
Your remediation plans will mainly take one of three tracks:
Try to get the result taken down.
Push the result off page 1 or 2 of Google by creating your own optimized content that ranks better.
Address the complaint and make it right.
1. Trying to Get a Result Taken Down
Trying to get a negative result taken down involves contacting the website owner or whoever posted the negative comment. This may not be possible if the result is a legitimate negative review on Yelp or another site that is popping up.
But, if you have evidence that the review is competitive sabotage and totally fake, you could try making your case to the site hosting it.
2. Pushing the Result Off of Page 1 or 2
For the second option, you'll want to take a look at the page that is ranking well with your SEO hat on. Look for what keywords might be causing that negative result to rank so high.
Take notes on potential keywords you can use and external links to add to help your content outrank that negative result.
3. Address the Complaint
If the negative mention that is ranking well for your company name is a legitimate beef from a customer, do your best to make it right.
Reply to the person if you can on that same results page, or offline if you're not able to post a reply.
This is not only the right thing to do but also helps your company in other ways. Replying to a negative review to try to make things right can improve a person's perception of your company while reading that negative result page.
Create Content With Brand SEO
You want to do your best to "own your space" on Google as well as you can. This means creating engaging content with brand search engine optimization as your goal.
Where possible, add your company name in a blog post URL and within metatags to boost positive content about your company in the search results.
Potential pages or blog posts you could make for brand SEO include:
About Us Page (you should already have one, but have you optimized it with brand keywords?)
Reviews Page (Use keywords like (Company Name) Reviews)
A Post about IT Business Scams (this allows you to optimize for "your company + scam" but in a way that doesn't look bad)
A Post with Tips from (Your Company Name)
Behind the Scenes with (Your Company Name) Videos
This doesn't mean going through every page and every blog post on your site to add brand keywords. You want to mindfully create meaningful content where using your company name variation for keywords makes sense.
Create a Site or Blog Using Your Company Name in the URL
Not all IT business owners use their business name in their website's URL. They may use a version of IT or MSP, but not their actual name. If this is the case, then you should grab a domain with (your company name).com.
You don't have to make this as elaborate as your main website, just post content to it about once per month in the form of a blog post or cybersecurity tips. You can then link to this site from your business page.
The reason to do this is that having a keyword in a URL boosts that page big time in Google's relevancy score. So, you have a much better chance of pages from that site ranking for searches on your company name because your company name is in the URL.
One caution: Do not copy/paste content from your main website just to add content to the brand site. This will get you a duplicate content penalty and could hurt your rankings instead of helping them.
Claim Your Vanity URLs on Social Media
Claim your company name on social media sites, also known as your vanity URL. This means that instead of Facebook.com/a-bunch-of-characters, your Facebook page will be at Facebook.com/your-company-name.
With your name in the URL, your social media page can more easily jump to the top of the google search results, pushing negative content down.
You'll see in the results for our parent company, Tech Marketing Engine, that the #2 and #3 results on Google are social media pages LinkedIn and Facebook. (Double bonus, our Facebook page has reviews & star ratings displayed in the result!)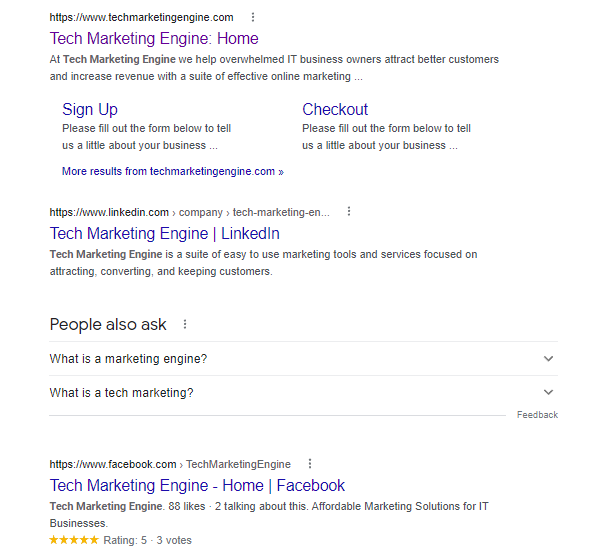 Use Google My Business & Post Updates Regularly
Google My Business is a great way to claim your space on Google. It draws people's attention right away when they search your company name and see it on the right-hand side of the page.
The more "tricked out" your GMB listing is, the more attractive it can be to potential customers. This can draw their attention to the services you offer and away from a negative result that you're working to remediate.
If you want help getting started on Google My Business, just let us know!
Use Smart SEO & Reputation Management Tools to Clean Up Your Google Results
With a little patience and adherence to good SEO and reputation management practices, you can clean up negative results on Google and improve your lead volume.
Have you ever been surprised by a Google result about your company? Let us know below!