Best Practices for IT Business Reputation Management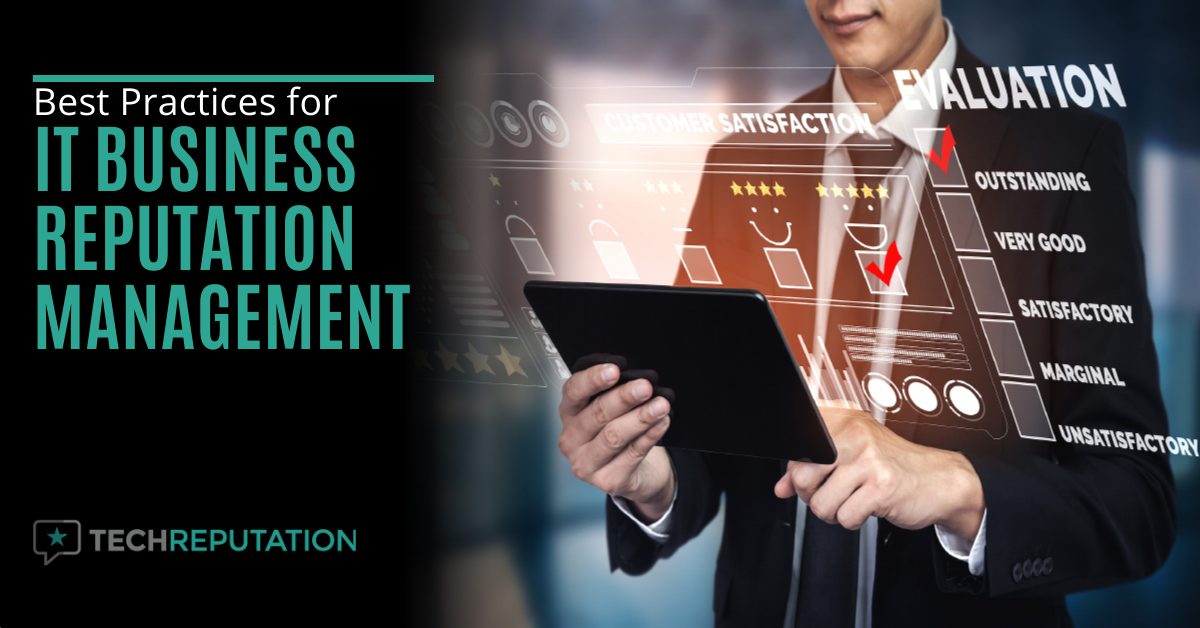 Before the internet age, reputation management basically meant making sure you kept your name out of the papers for the wrong thing and that you treated customers right.
It's still important to treat customers right, but in the digital age keeping your name off the internet for the wrong thing is nearly impossible.
That's why reputation management is an important facet of branding and content management for businesses. If you know the best practices of managing your online presence, you can reduce the risk of lost business from some bad search results.
Create & Keep a Good Reputation Following These tips
One bad review posted on several review sites can drag an otherwise good reputation through the mud and cost your MSP business customers.
Reputation management has become more challenging thanks to the internet, but by adopting certain best practices you can cultivate a good reputation for your business and help ensure its resilient against negative online mentions.
Why is it important to protect your business reputation?
Because a lot is riding on your reputation and reviews, including your bottom line. Customers can easily find any negative search results about you in seconds, which may make them decide to go elsewhere for their technology needs.
Here are a few eye-opening statistics that illustrate how important it is to properly manage your online reputation:
65% of people view search engines as the most trusted source of information about companies and people
57% of consumers won't use a business with less than a 4-star rating
40% of people won't do business with a company that has negative online reviews
Just like you fold other best business practices into your normal routine, such as marketing or customer call backs, it's also important to adopt some of the following best practices to maintain a good business reputation.
Obtain Your Business & Personal Domain Names
One of those Google ranking signals that's right up there at the top is a domain name that matches the search query. This means you want to make sure you have the domain name for your business and for your own name.
Most MSP businesses have a website domain that is their business name, but not all. Some use a memorable phrase like "FixmycomputerNY.com," which can be easy for people to type in, but it's not helping your page search rankings when someone is looking for your business by name.
The benefit of putting content up on both your business name domain and personal name domain is that it can begin to rank in searches for either name, potentially pushing negative results past the front page.
Because many small IT business owners are associated with their business, owning your own personal domain, perhaps for a blog about your hobbies or being an entrepreneur, can give you double coverage when it comes to searches on you or your business.
Generate Ongoing Content Marketing (Blogs, Social Posts, Videos, etc.)
Fresh content put out into the ether of the internet regularly helps you control your online reputation. Content marketing is also an important part of your MSP business sales funnel.
Google loves serving up fresh content, which means older content tends to fall by the wayside after a certain period time. To keep your reputation going strong and projecting a fresh and relevant face for your business, you want to be posting blogs and other content marketing regularly.
Having a blog is a great place to begin because from a blog, you can create multiple other content and all of that content spiders out, boosting your business reputation.
Here's an example of how it works in the image below.
You can see that from one solid piece of content marketing an entire marketing engine is revved up and it helps your business when it comes to leads, sales, reviews, reputation, and more.
You want to regularly feed that engine with the fuel it needs to continue running smoothly. If you find you don't have a lot of time to generate blogs on your own, you can check out sister site, Tech Blog Builder for tailored blog content.
Put a Reviews Request Program in Place
One hundred reviews can boost conversion rates by as much as 37%. Having a reviews request program in place is one of the most important best practices for IT business reputation management.
When you have an automated process for requesting customer reviews, you can quickly ramp up to 100+ and maintain your good business reputation.
If you're thinking, "I already have a bunch of good reviews from the last few years, why do I need more?" The quick answer is that reviews have a shelf life.
Customers don't give the same weight to reviews that are older, and not having any recent reviews can actually detract from your reputation. Potential customers may wonder why all your reviews are old and you haven't gotten any lately.
85% of consumers don't consider reviews older than 3 months relevant.
You can automate the reviews process in a number of ways. One is to put in an automated email that links to your Google reviews and goes out after a service ticket has closed out.
Another way is to use a reviews service, like Tech Reputation, that can give you one place to see reviews from multiple sites and automate requests.
Regularly Respond to Reviews (Good and Bad)
Get in the habit of regularly responding to reviews, both good and bad. This boosts your reputation because people see that you are responsive.
Responding to reviews also encourages more people to send in reviews for your business, which keeps feeding those good vibes and boosting your reputation.
It's especially important to respond professionally to negative reviews, because it shows that you care. You want to try to take the conversation offline by acknowledging the issue mentioned and asking the poster to contact you by phone or email.
When people see that you're responsive to customer issues, it can actually make them look favorably on that negative review, turning it into a boost of reputation rather than the opposite. In fact, consumers think that businesses that respond to their reviews are 1.7x more trustworthy than those that ignore them.
Create Consistent Social Media Usernames
Reputation management includes doing your best to promote positive search results online for your business name. SEO is a big part of this, and another way to get more top page listings that are positive about your business is to use your social media.
Google often ranks social media accounts that match a business name on page one. You can see below that when searching on Tech Reputation our Facebook reviews and Facebook home page are right behind our website in the search results.
You want to use your business name as your social media account name consistently across all platforms (Facebook, Twitter, Instagram, LinkedIn, etc.). This makes it easy for search engines to find when matching results to a search of your business name.
Set Up Google My Business (& Other Local Citations)
Another important signal to customers that they can trust your business is to set up and properly manage your Google My Business listing on Google, as well as other local citations for tech businesses (Manta, Yelp, etc.)
Local citations are those listings of your company name, address, phone, website and more that can spider out across the internet. They're also a way that customers find out about your business reputation.
Four of out five consumers search online for local business information. Local citation sites will often have a listing for your business, whether you've claimed it or not.
If someone sees that you haven't claimed or filled out your business listing on a site, it can make your technology business look behind the times. You also miss a perfect opportunity to cultivate your business reputation.
Google My Business listing views have a 5% conversion rate for website clicks, calls, or directions requests.
Make sure to claim these listings and fill them out with details that match your website (address, phone, etc.).
Use Your Business Name In Your Keywords
Your business name is a keyword that people will often search when looking for IT businesses in your area.
What typically happens is that someone will do a search like "IT support in Atlanta," then they will choose the top 2 to 4 results and do a separate search on those to check reputation, i.e. "XYZ Tech Services Reviews."
Make sure that you are using your business name as some of the keywords you sprinkle throughout your website. This will help you further in ranking your pages for searches on your business.
You can make this especially potent by creating a reviews and testimonials page on your site where you host and link to your reviews and use your company name and the term "reviews" in the keywords, page name, and title.
Announce Company News with Press Releases
When you add a new service, do you only announce it in an email to customers or on your social media? If so, you're missing a golden opportunity to put more good PR out there to boost your business reputation.
Draft a press release about your news and send it to your local news outlets. Many will have online portals for press releases to be uploaded or you can email them to a newsroom. You can also find online PR distribution engines like PRWeb or PR Newswire.
Those press releases being hosted on news websites add to the positive information that's out there about your company. They will often include links back to your own website (which of course you included in your PR!), enhancing your own site's SEO.
Adopt Good Reputation Hygiene and Reap the Benefits!
Adopting best practices of good brand and reputation management pays off in more leads, more sales, and increased customer retention for years to come.
Have you ever been surprised at what came up when Googling your business? Share your story in the comments!