8 Reputation Management Lessons for New MSP Business Owners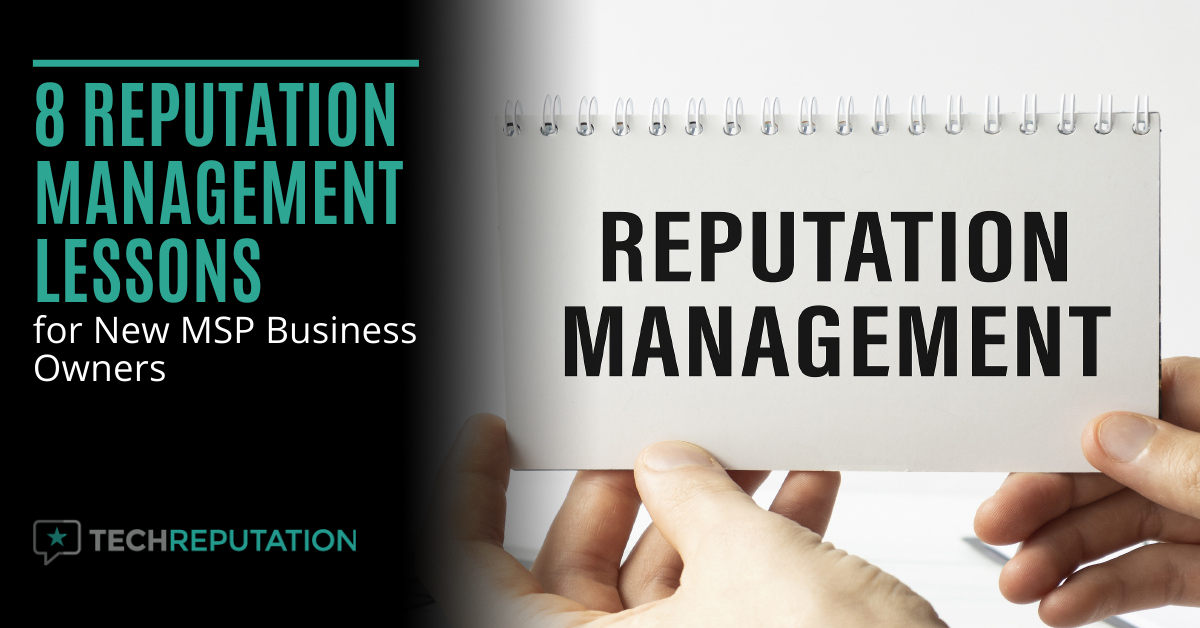 When you start a new MSP business, you're most likely focused on what tools you're going to use for remote management and how to market for new customers.
Your reputation might not be on your radar as something you need to worry about right now. But it's actually the perfect time to put reputation management foundations in place.
Reputation connects directly to your ability to generate leads and sales, so setting yourself up for success in this area from the get-go can help you grow your company faster.
Why Reputation is Important to Your IT Business
Whether people searching for you or your company on Google find good results directly impacts their buying decision. People need to feel they can trust a company before they begin doing business with it.
92% of B2B customers are more likely to purchase after they've read a review.
The benefit of being a new business is that you don't yet have any bad reviews out there, but they can easily crop up if you don't put a mechanism in place for reputation management that helps ward off negative online results before they start.
Reputation is also important because it's a key component of your marketing engine. One of the first things people do before they decide to purchase a product or service is look for someone else's experience with that company. Nine out of 10 people look for reviews before pulling the trigger on a buying decision.
"But we're new and don't have any reviews yet. So why do we need to worry about this?"
The fact that an MSP business is new and doesn't yet have any reviews is exactly why it's important to put a process in place to start generating them as soon as possible to help boost your lead conversions.
What is Reputation Management?
Reputation management is about controlling your online perception and reputation. If you don't proactively manage your business reputation, you can end up with customers being driven away because of one bad review that you never knew was out there.
Reputation management includes several things that will benefit a new IT business's bottom line:
Put a system in place to automatically ask customers for reviews
Incorporate your reviews into your overall marketing strategy (display on website, etc.)
Alert you of new reviews/replies about your company on major review sites, so you can respond quickly
Help you optimize your Google My Business and other online citations
Make it less time-consuming to manage your business reputation
Tips for Reputation Management that New (and Existing) MSPs Can Use to Improve Their Bottom Line
You Need Reviews If You Want to Grow Your Business
I've touched on a few statistics already on the importance of reviews when it comes to the buying decision. A vast majority of people look for reviews before they will trust a company enough to do business with them.
83% of people don't trust advertising. They know that it's going to be slanted one way. Instead, they want to read a review from someone else that already tried your IT services.
This makes getting reviews in place one of the first things you need to do in your content marketing strategy. This includes putting a system in place that can automatically request reviews from customers at the appropriate time after an MSP service has started or a project has been completed.
Google is #1 When it Comes to Reviews
Google is the most visible place for local business reviews. When a company name is searched on Google, the Google My Business listing will come up on the right-hand side of the page with reviews right at the top.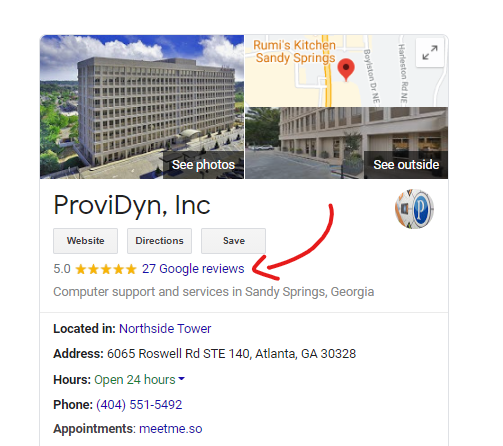 57% of consumers use Google to find a company's reviews. This means that it should be the main place you send people to leave a review for your business. It also means that it's going to be the place that most people leave a review of their own accord.
It's important as a new business to put your best foot forward on Google My Business, by claiming your listing and adding your pertinent business information, such as company website, phone number, hours of operation, etc.
This bolsters your reputation as well as gives those looking up your reviews on Google an easy way to contact you without even needing to leave the search results page.
It's Important to Reply to EVERY Review & Review Comment
Whether a review is good or bad, it's vital to respond to them. This is another reason reputation management is important for a new MSP business owner. Having a system in place that can alert you to new reviews and comments, ensures you know what people are saying about your business when they say it.
Why is responding to every review and review comment important?
Over half of people (53%) expect companies to respond to their reviews. Those companies that do, see it in their bottom line. Companies that respond to at least 25% of their reviews see revenue increase an average of 35%.
Responding to your reviews and review comments is important for a few different reasons:
It lets those that left a review know you care.
It gives you a chance to address a negative review and potentially turn it to a positive.
You improve your reputation by responding positively to reviews.
You build relationships with your customers that can improve loyalty rates.
You can convert more leads to sales (people regularly read a company's responses to reviews and they factor into the person's buying decision).
Buyers Want to See Fresh Reviews
Once you get about 10 reviews or so, you can stop worrying about reviews, right? Wrong!
Reviews have a shelf-life, and customers expect to see fresh reviews and will often discount those they consider "too old." 85% of consumers consider reviews older than 3 months to be irrelevant.
If your last company review was 8 months ago, a person may wonder why you don't have any newer reviews ("Did they go out of business?" "Did they change management?", etc.).
Businesses that have more than 9 current reviews (note, "current"), earn on average 52% more revenue. Having over 25 current reviews increases average revenue by 108%.
Use an Automated Review System So You Aren't Overwhelmed
It's common for a new IT business owner to want to do everything themselves to save money. But you need to value your time when you're looking at the ROI of a particular activity.
Trying to search out every review site even once per week to look for new reviews and comments and trying to remember to ask customers for their reviews regularly can take up a lot of your time.
Using an automated reputation management and review platform can turn a multi-hour task into one that takes only a few minutes. It can automate the entire process, so your reputation is being managed expertly for a very affordable monthly price.
Content Marketing Is Also Reputation Management
Part of managing your reputation is building up a rep as an authority in your area. As an MSP business, you may want to build up your reputation as networking or cybersecurity experts.
Part of how you do that is through your content marketing strategy, which involves putting out content, such as:
Blogs
LinkedIn Articles
Features in Local Publications
Infographics
Helpful Topic Videos
And more
As your business names spiders out there through the internet with each article, video, and other resource, your reputation is being built up as a subject authority.
This will not only help your search rankings, it also positions you as "the" MSP company to work with in your market.
Don't Despair Over a Bad Review
Bad reviews happen to everyone. Someone may be having a bad day and not understand how to properly use their IT, so they blame their IT provider. Or a 1-star review can come out of the blue from someone that was all smiles and rainbows when you followed up with them post-project.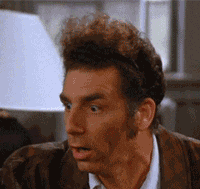 A bad review isn't the end of the world and it's not a reason to avoid having a review strategy in the first place. Whether or not you ask for a review, people will review you anyhow, so you might as well be on top of your rep.
There are several things you can do to turn a negative review into a positive for your business. The main thing is to not panic, definitely don't lost your temper online, and to know that when you're on top of your reputation management, any bad review is fixable.
Don't Feel Like You Can't Ask for a Review
Some MSP providers, especially ones that are new to the business, might feel they are putting a customer out or being intrusive by asking them for a review. But people actually love giving their opinions!
76% of people will give a business a review if they are asked.
If you feel uncomfortable asking, this is another reason to use an automated reputation management process. You can put together a review request email with a link to your Google My Business page, and then have that sent out automatically when a certain post-sale event is triggered.
The system can even be set up to send a friendly reminder a week after the first email. You don't have to feel weird about it because it's being taken care of for you by the system. (And people are used to getting review requests from places like Amazon, so you're not putting anyone out.)
Set Your MSP Business Up for a Great Reputation
When you focus on business reputation and review building from the start, you can set your new MSP business up for success and grow your sales much faster.
Do you have any questions about Google My Business listings or review management? Share your thoughts in the comments!