What Does an MSP Reputation Management Service Do For Me?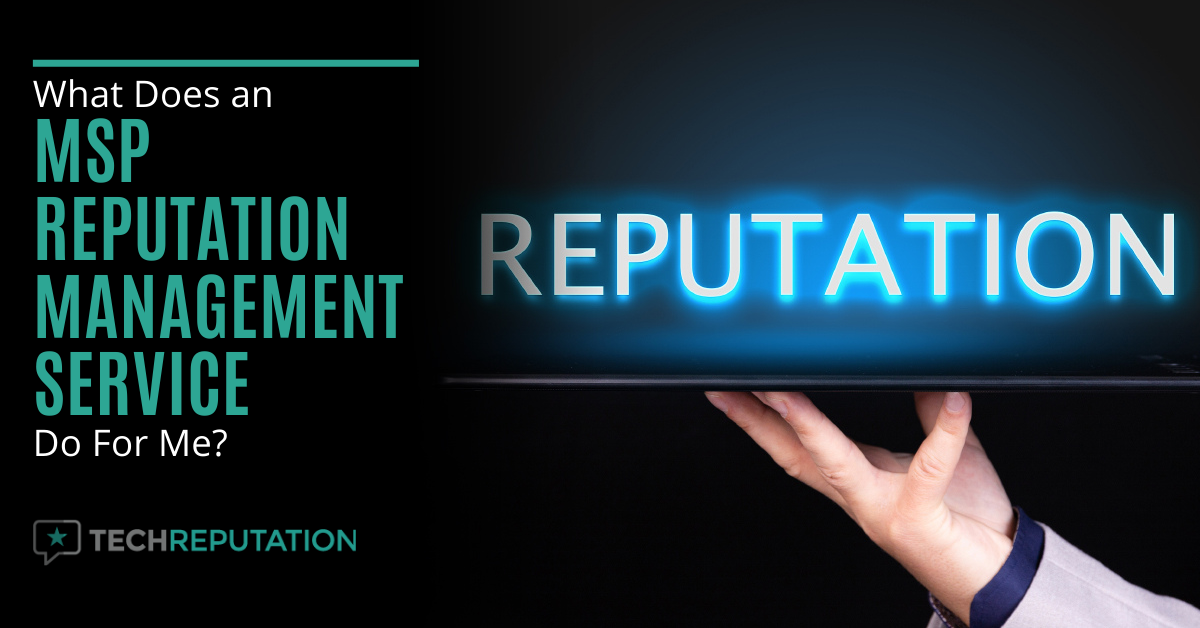 Is your reputation really that important to your MSP sales? How much do reviews influence someone's decision to go with your company other another IT provider?
You might be surprised at just how much weight your reputation carries when it comes to a customer's buying decision. That's why reputation management services exist, to help businesses foster a great reputation that outshines their competition.
Wondering what benefit you actually get from working with an MSP reputation management service? We'll go over everything they do and how these services can benefit your business.
How Much Do People Care About a Company's Reputation?
Let's begin by looking a why your reputation is important in the first place and what factors into a business reputation.
Customers do care about the reputation of a business, and for many, it's a key factor in choosing which IT provider or other service business they're going to use. Approximately 50% of a company's market value is attributed to its reputation… because reputation matters.
Here are several other insights from FinancesOnline that illustrate the importance of your reputation.
Think your price matters more?
Only 36% of consumers place more importance on things like location and price than they do reputation.
Are customers really reading reviews?
97% of people read online reviews when choosing a local business.
Can reputation impact sales?
82% of consumers say that the content of a review has made them decide to buy a product or service.
Does a lack of reviews matter if you don't have any bad ones?
63.6% of people will look for online reviews on Google before they'll visit a company's website.
How Reputation Management Companies Help Your Business
Now that we've looked at data relating to the importance of having a good online reputation and having business reviews, lets dig into what companies like Tech Reputation do to help your business.
Building and maintaining a good MSP reputation takes time and diligence. You can't just gather 10 reviews and call it a day, hoping those will carry your reputation through for months and years to come.
73% of users won't trust online reviews older than a month. They want to know what you've done for people lately and how those people feel about it.
Just as the computer systems and networks you manage for your own customers need continual upkeep, the same is true for your business reputation. And to keep this important piece of your tech business marketing engine going strong and gaining you sales, a reputation management company provides several services.
Keep Reviews Incoming Regularly
I've just touched on why it's important to have a fresh supply of MSP business reviews come in. Reviews age quickly and consumers making a buying decision want to see recent ratings and testimonials for your company.
Trying to keep reviews coming in can be time consuming for a business owner, especially if the process is manual and you're just emailing people as it crosses your mind to ask them for a review.
A reputation management service puts an automated system in place where you don't even have to think about it. Customers that have a completed service or project receive an email automatically with a link to the review platform(s) you use.
This is done through a connection of the automated review system and your CRM and/or RMM/PSA platform.
Make It Fast & Easy for You to Reply to Reviews
Is it important to respond to reviews (both good and bad)? Yes! 97% of consumers that read reviews also read the company's responses to those reviews. 53.3% of customers expect a company to respond to a negative review within seven days.
The replies you give can foster long-term relationships and repeat business with people that gave you positive reviews. An honest and considerate reply offering help for a negative review can instantly turn that review from bad to good in a potential customer's opinion.
A reputation management service brings all your online reviews from multiple platforms (Google, Yelp, etc.) into one place so you can easily manage your review replies. You can get real-time email and SMS alerts as soon as reviews come in, so you can respond in a timely manner, which reflects positively on your company.
Automatically Feed Reviews to Your Website
Reviews out there on your Google My Business listing are great, but they can help you even more when brought into your website and on your services pages.
A product/service that has 5 reviews can increase purchase conversions by 270%.
This is another time-saving and helpful service provided by an MSP reputation management company. Through a WordPress plugin, positive reviews are fed to your site automatically, no having to add another task to your To-do list or copy/paste reviews into your pages.
You also don't have to spend hours searching out your reviews online.
Reporting & Insights on Your Reputation
Most small business owners are in the dark about how their reputation looks month after month because they have no formal way to keep track of incoming reviews or how customer online sentiment is trending.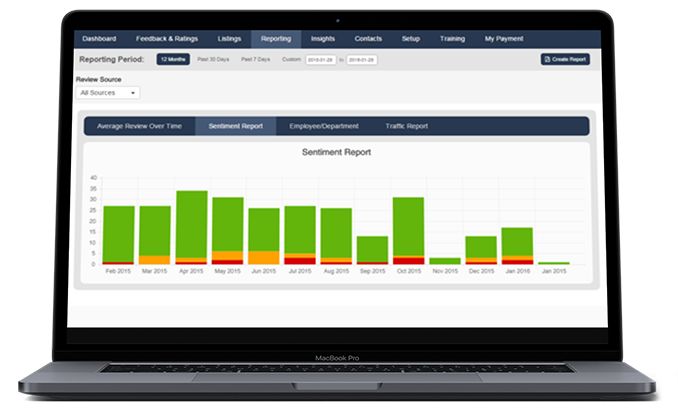 Through a reputation management service, you can see real-time reporting on how customers feel about your business. This allows to immediately identify any red flags you need to address. You can also check on the progress you're making in boosting your reputation after signing with a management service.
Get More Exposure to Boost Your SEO
A great reputation doesn't only translate into more leads and sales, it can also help your website SEO strategy and boost your ranking positions.
MSP reputation services do this in a few different ways:
Generating more reviews, which Google picks up as ranking signals. (Reviews account for approximately 15.44% of how Google ranks local businesses.)
Syncing your business information with multiple online directories (also called local citations) to earn you more quality backlinks and online exposure.
Improving your local SEO by making it easier for you to respond to reviews, which Google also looks at in its local ranking signals.
Google My Business Page Optimization
Some reputation management services, like Tech Reputation, will also include optimization of your Google My Business page in the support options provided.
Google My Business is an important piece of a local company's sales strategy because it's so visible to those who are searching online for a local business of any kind. GMB is on page 1 of Google, which about 75% of searchers never go past.
According to Small Business Trends, the average local business sees 59 actions per month coming from their Google My Business listing. These take the form of:
Website visits (56%)
Phone calls (24%)
Direction requests (20%)
How well optimized your Google My Business page is has a direct impact on how many of those leads you get per month and how well they convert to sales.
A reputation management service will help your page earn maximum exposure and keep it updated as you make any changes to your hours, location, COVID procedures, etc.
Automated Social Media Posts of New Great Reviews
A big benefit of working with a reputation management service for your IT business is that they look at the entire spectrum of how one review can impact several areas of your content marketing.
They can automate the process of posting positive reviews to your social media, helping you generate more buzz for your business and keeping that content engine going.
Good reviews going out regularly over social media can help you generate more engagement and followers on Facebook, LinkedIn, and other social channels.
Earn You More Sales
Star ratings and nice reviews are great, but most IT business owners are interested most in their bottom line, and may not be sure how those kudos translate to revenue.
Studies show that star ratings, customer testimonials, and a positive business reputation directly influence whether or not people purchase from you as well as repeat business. In other words, a good reputation = more sales.
Here are a few statistics that illustrate how much reputation management can improve your bottom line:
One additional bump in star rating can boost sales by 5%.
Customers spend 31% more with a company that has "excellent" reviews.
80% of people back out of a purchase after reading a negative review.
92% of consumers are more likely to buy after reading a positive review.
Save You Valuable Time
Are you wondering if you can just do all those things yourself to keep up your reputation? Technically, you can, but it's going to take a lot of your valuable time. Plus, you may not know all the tips and tricks to building and maintaining a great business reputation.
Think of it as the same reason you tell your business customers that they need managed IT services. Technically, they could manage their IT themselves, but the outcome would most likely not be great and they would end up putting out technology fires all day instead of running their business.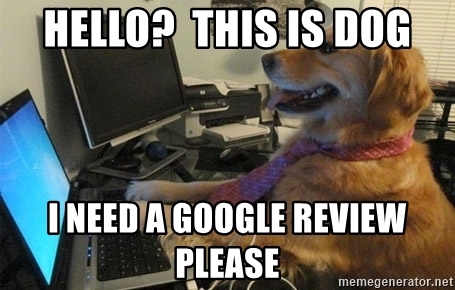 In the case of an MSP business owner, you would end up trying to manage your reputation all day instead of running your IT business.
Reputation management services offer a monthly rate to handle all parts of your reputation management, helping you grow your business and saving you a lot of time in the process.
Get a Free Online Reputation Audit
Getting a free reputation audit that tells you where your reputation and review strategy currently stand is a great way to dip your toe in the water and learn more about reputation management services.
What's your biggest challenge with your business reviews? Share your thoughts in the comments!