Simplify Customer Reviews Acquisition for Your IT Business with Automation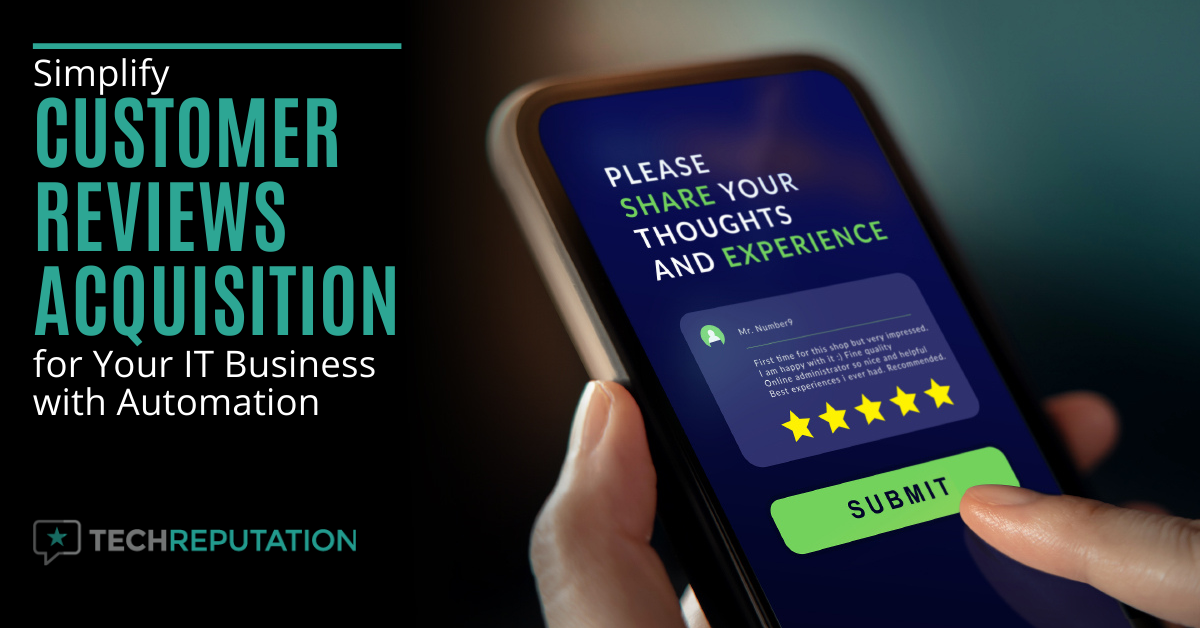 Getting great reviews for your IT business is awesome. But the thought of manually sending out requests each time you provide a service can be daunting.
Often, any type of ongoing customer reviews acquisition process falls by the wayside as soon as the shop gets busy because there's just no time. Then months can go by with no new reviews.
One of the keys to a successful review strategy is implementing automation to reduce your time investment and ensure that you have a continuous stream of fresh reviews to help drive new business.
Why Is It Important to Automate the Review Request Process?
Just like old bread, reviews can get stale. So, you can't just rest on your past stellar reviews and expect them to continue generating the same amount of power for your marketing engine.
Here are some of the reasons that automating a reviews request process can make a big difference for your overall sales funnel and marketing strategy.
The Relevant Lifespan for Reviews is Getting Shorter
As the pace of society gets faster as technology progresses, reviews are getting shorter lifespans.
73% of consumers only look for reviews written in the past month and consider older reviews irrelevant. 85% think reviews older than 3 months aren't relevant to them.
So, if your reviews aren't fresh, a majority of people you're hoping they win over could be totally ignoring them.
By using automation when requesting reviews, you can ensure that every customer is consistently being asked for a review at just the right time.
Most IT Business Owners are Strapped for Time
Time is a commodity that's precious for any small business owner. This is why they can often have hit-or-miss review strategies. Their strategy ends up being, "when I have time, I do it."
This leads to an up and down lead generation process, where as soon as you get time to ask and get in a few new reviews, your leads and sales increase. Then, you get busy, stop asking for reviews, your reviews get old, and leads go down.
Automation removes that sporadic element and once set up, it runs automatically without you having to invest additional time each month.
Automation Makes Follow-Ups Easier
Not everyone is going to have time to fill out a review when they first receive the request. It doesn't mean that they don't like you, they might have just been in the middle of something at that moment and told themselves, "I'll do that later."
But when later comes, your review request email is now buried under a bunch of other emails. This is why it's important to send a follow-up reminder.
Sending a reminder to your review request 3 to 7 days after the initial email can boost the response rate by as much as 14%.
Automating this process is the easiest and most time-efficient way to implement reminders when someone hasn't responded to your initial request.
You Don't Miss a Great Review
When you're manually sending review requests, it's easy to miss someone when things get busy. You could end up missing out on an awesome review because you didn't ask.
Most people are happy to give a review, but they just need an invitation and link that makes it easy for them.
72% of customers are happy to write a review for a local business if asked.
When you automate the process of asking for reviews, you reduce the chance of human error and ensure that every customer receives a request once a ticket has been closed or X months after they've signed up for an MSP package.
You Save Money
Sending reviews manually takes time. Whether you have your office assistant, or a technician send the requests as part of their weekly tasks or you do it yourself, it's costing you money.
Automation drastically reduces the time investment into this important marketing activity, which ultimately reduces your cost per lead acquisition and all-in cost to generate a sale.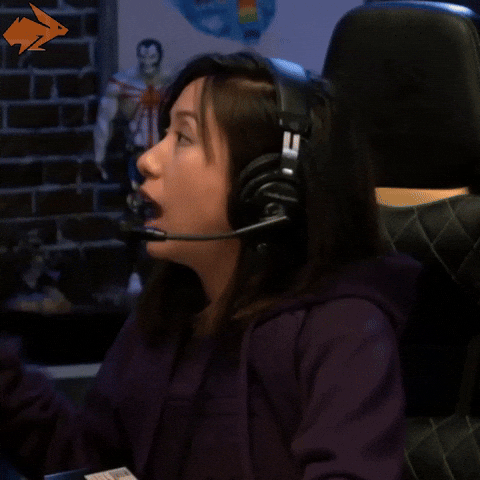 You Multiply Your Review Count Quickly
Many MSPs can feel like they'll never get all the reviews that they see competitors getting on Google My Business and other sites. That's because they've been using a manual process that just seems like so much work to bring in one review.
Automation allows you to streamline the entire process, so it runs like clockwork. Once you automate, you'll notice your review count adding up quickly, because no stone is left unturned as far as everyone getting a request and everyone that hasn't responded getting a follow-up.
Consistency equals better results.
Ways to Put Your Review Requests on Autopilot
Requesting reviews is one of the best practices for marketing and reputation management. Automation helps you do that effectively and affordably.
What are the best ways you can automate your review request process?
We'll go through a few different scenarios below. The first is how we do it at Tech Reputation for our clients. We'll also touch on some other ways you can introduce automation to save time and improve your review request strategy.
How We Automate the Review Request Process (Connection to Ticketing System)
Tech Reputation automates the reviews process by connecting to an IT company's software ticketing system. Two that most of our customers use are:
Syncro
This allows us to identify when a ticket is resolved or closed and automate a review request when that happens – no manual interaction is needed!
How it works is that each time a ticket is closed/resolved, Tech Reputation's platform automatically sends out the review request to the customer via email & text message.
The Tech Reputation software is also smart enough to know if your customer has opened the review request email and/or left you a review. Otherwise, a few days later a gentle reminder is sent asking once more for the review.
All of this is done automatically, without taking up any of your time.
To increase the chances of capturing that positive review, email and text messaging can be used in tandem. This tactic has been shown to increase conversions as well as sending that automated reminder.
WordPress Google Reviews Plugin
If you have an eCommerce component to your IT business site, such as selling guides, antivirus tools, etc. you can automate the review request process by using a WordPress plugin.
These are designed to work with WooCommerce (or another shopping platform) to automate a request for a review a certain number of days after an online purchase. They will also often include the ability to automate reminders.
A benefit for an online shop is that these plugins can also incorporate star ratings and reviews into your product listings, saving you time and improving social proof for your offerings.
Here are a few you can check out:
Email Automation
Another way that you can set up an automated process with just one manual task needed to trigger it would be to use email automation in a program like MailChimp or Constant Contact.
In this scenario, you would set up two emails, one would be the initial review request and the second would be the follow-up reminder if they don't respond.
Using the drip campaign actions, you could set the second email to trigger 3 to 7 days after the first only IF they haven't clicked the review link or opened the first email.
Only one manual action would be needed which would be to trigger the campaign when an issue was resolved or a certain number of weeks after an MSP client signed up.
You can trigger using tags. In platforms like MailChimp, you can attach tags to your contract list or assign them via a web form. Here's how this might look:
Set up a 2-email drip campaign for reviews.
Trigger the first email off a tag that you apply to someone that just had an issue resolved, such as "review."
When someone interacts with the first or second email (i.e., clicking the review link) you have the automation remove the tag.
The method isn't quite as automated as the one we use, which connects directly to a ticket system, but it can be used as a first step if you're not yet using ticketing software.
What Link Should You Give Customers to Submit a Review?
One of the most recognized and visible review sites is Google. When you set up a Google My Business page, you can copy a link that directs someone to give you a review on Google.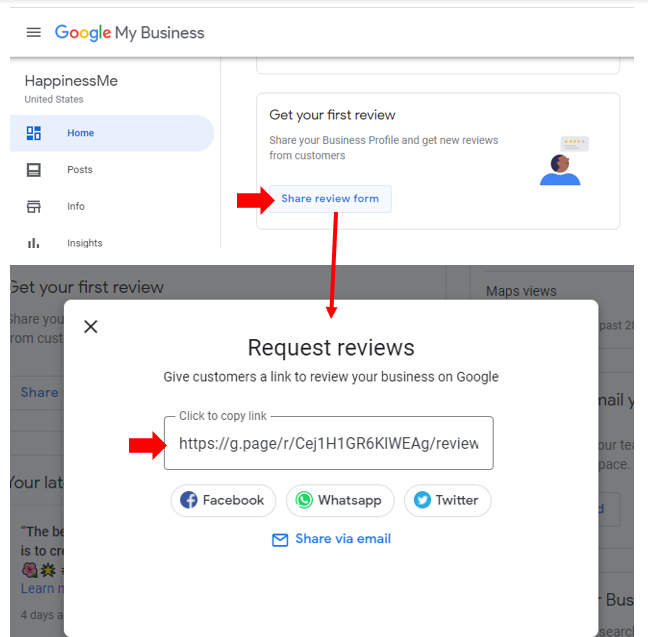 This can help with visibility, local pack SEO, and more.
Once reviews start coming in, there are ways that these can be brought right into your website from Google to improve your conversion rates.
Put an Automated Review Engine in Place for Your IT Business
Once you have an automated review request engine in place, you'll find that you have fresh reviews coming in, gaining you more leads and conversions without having to spend tons of time sending manual emails.
What strategy do you use for requesting reviews for your business? Share your experience in the comments!