What's the Difference Between SEO and Reputation Management for an MSP Business?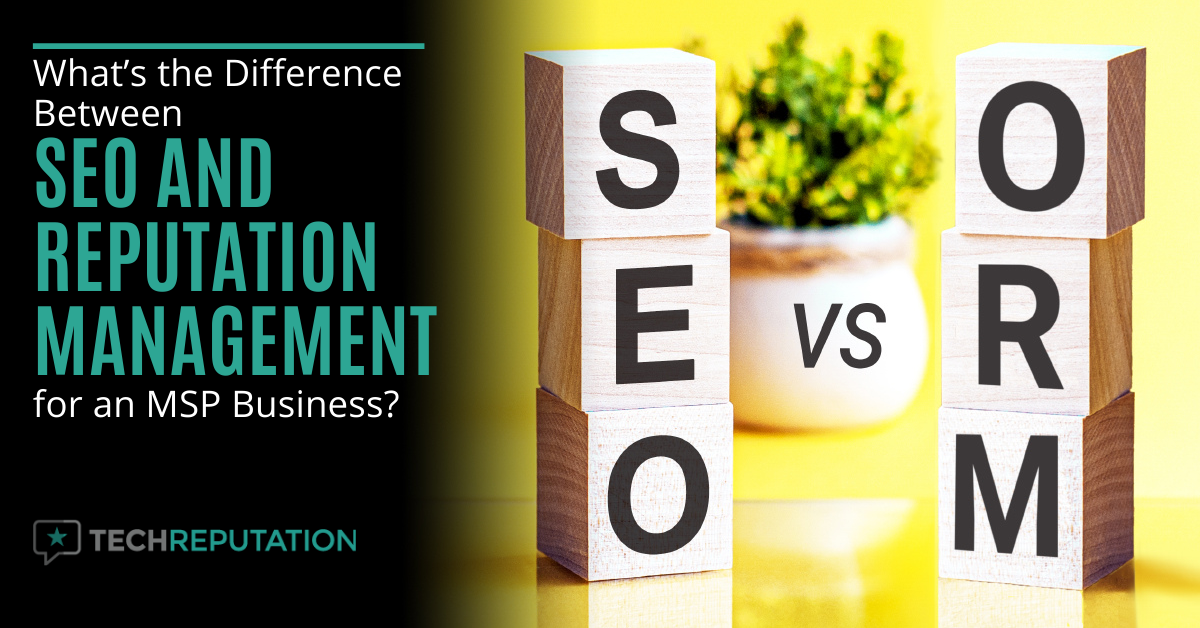 Sometimes you want your search results to be found when a prospective customer does a Google search, and sometimes you don't.
In the case of your products and services, you're trying to get those to come up on the first page of search results. But if someone writes something negative about you or your company, you want that to be pushed back to the depths of Google results, where no one goes.
Both SEO and Reputation management are important ingredients in your MSP business marketing engine. While they do overlap, they're not the same thing. Knowing the difference can help you do both better.
Search Engine Optimization (SEO) vs Online Reputation Management (ORM)
SEO is all about getting your pages found in search engine results for relevant keywords. If someone types in "Atlanta network security provider," then you want your company in the area to be one of the first they see and call.
ORM is about building trust in your company so that a person will want to do business with you. That trust is garnered by what they find when searching for you or your company online.
SEO and reputation management interconnect and impact each other. This is why you can't just do one without the other if you want to get maximum results.
What do I mean by that?
Here's an example:
If you're trying to get your managed services page to show in the top results for Google and the local map pack, then you'll need to optimize that page for search. You'll be choosing relevant keywords and using those throughout your page content according to ranking best practices.
This includes putting keywords:
In the text of your page (just enough, but not too many)
In headers and sub-headers
In ALT image tags
In the page URL
In the page description
As the text for anchor links to your page
Etc.
You may do all that and find that you're still not making it to page 1 of Google with your services page and not showing up in the local pack that's located under the map on Google local searches.
A key reason could be that you're lacking online reputation management. Maybe you haven't bothered putting up a Google My Business listing to gather reviews. Thus, your page has fewer key ranking signals than a competitor's, which has several Google reviews.
Did you know that a GMB page with reviews can account for over a 1/3 of your local search ranking?
Local search ranking factors include:
Google My Business listing: 25%
Online reviews: 15%
Link signals: 16%
On-page SEO: 14%
Citation signals: 11%
Behavioral signals (CTR, etc.): 10%
Personalization: 6%
Social signals: 3%
By adding a GMB listing and putting a review strategy in action to encourage people to leave reviews on Google, you can improve your MSP page's overall search result position while also improving your reputation and "trust factor."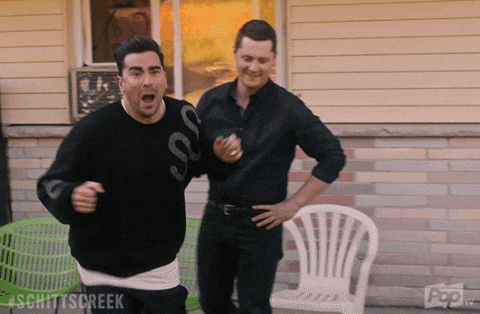 ORM Without SEO
If you focus on your online reputation management but don't focus on SEO, then you could run into problems with a bad review hanging out on page 1 of Google for years. I've actually seen the same negative review from a single blogger remain prominently on page 1 of a Google search on a company's name for about 8+ years.
The company hadn't done any SEO on other pages nor targeted keywords like "(company name) reviews" or "reviews for (company name)" for page optimization. So, there was no competing content to push that result off the 1st page of Google.
That result haunted the company for years and cost them unknown amounts of business.
SEO is needed to enhance reputation management for a few different reasons:
Properly optimizing blog posts and pages can gain positive search results in higher positions, pushing older, negative results off page one.
Using SEO on your GMB page gives you a better chance of appearing in the local map pack on searches.
SEO helps the trust-enhancing content your company has created show up for searchers of IT products/services to drive more conversions.
SEO Without ORM
If you're focusing mainly on search engine optimization for your IT business site, but ignoring reputation management, you can be throwing money out the window.
For example, you may do a great job of getting your IT security services page to show up on the first page of a local Google search AND get your company to appear in the local map pack.
The three top local map pack listings get 40% of the clicks on a Google local search.
But, since you haven't done any reputation management, such as working to get reviews, your results don't seem to be getting the traction you expected. When you search to check out your listing, you see that it's the only one out of the three with no Google reviews. The other two firms have star ratings and reviews, which makes them more attractive.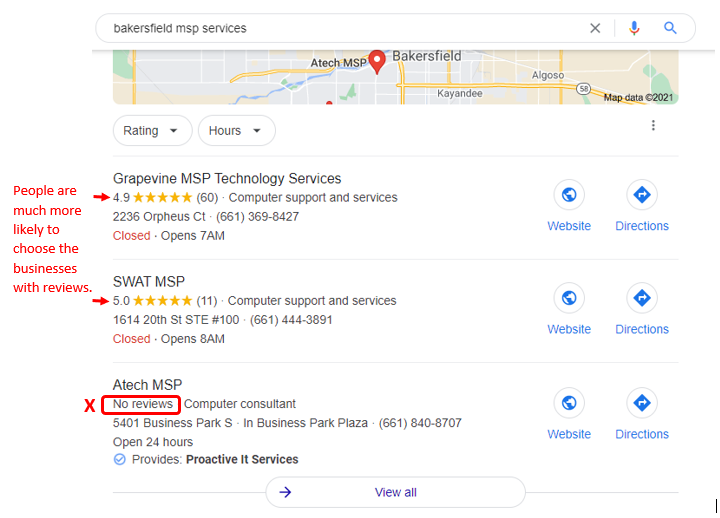 Doing SEO without working on reputation management could hurt your great search results and cause them to be ignored by searchers. Your computer repair page might show up right above a search result calling your business a scam.
Reputation management boosts your SEO efforts in several important ways:
Adds important social proof to help you gain trust.
Can improve your page rankings due to the additional SEO signal boost you get from local citations like GMB, Yelp, etc., and the reviews they generate.
Helps you counter a negative search result with results that reflect positively on your reputation.
Tips for Using SEO and Reputation Management Together to Improve Your Online Marketing
Here are a few ways that you can use SEO and ORM together to improve your online marketing results and drive more leads and revenue for your IT business.
Use Keywords Everywhere
Keywords aren't only for your web pages and blog posts, they can also be used in your reviews, GMB, and other local citation listings. The more keyword power you put out there, the better chance you have of all your site pages getting better visibility on Google.
If possible, use the keyword MSP or IT business in the name you use on Google My Business and other sites, like Thumbtack, Yelp, etc. Use keywords in the descriptions you use on these sites too.
Where it sounds natural, sprinkle keywords into your responses to public reviews. It's important to respond to both positive and negative reviews to enhance your business reputation, and there's no reason you can't also keep SEO in mind at the same time.
Instead of saying: "Thank you! We're happy to hear that you loved our services!"
Say this: "Thank you! We're happy to hear that you loved our remote IT support services!"
It still sounds natural, and you slipped the keyword "remote IT support" in there!
Use Reviews on Your Service/Product Pages
Product and service pages that include customer reviews get 3.5x more conversions than those that don't. So, you can significantly enhance the conversion chances of a page by including some of your business reviews.
You can do this through a carousel or a plugin that embeds your Google reviews on the page.
Customers overwhelmingly look at reviews before making a buying decision. Over half (56%) of customers read a least four reviews before making a purchase, so you increase your chances of a conversion once you drive SEO traffic to the page by including reviews.
Optimize at Least One Page for Your Company Name + Reviews
One of the searches that you can be sure potential customers are making is "(your company name) + reviews."
So, if you have any negative reviews out there, they are bound to show up if you haven't "claimed the space" by doing what you can to optimize for that type of keyword search.
You could do this easily by putting together a reviews/testimonials page for your website and optimizing that page for the appropriate keywords. If your company name is ABC Tech and you're located in Atlanta, then you'd want to optimize with keywords like this:
ABC Tech reviews (main keyword)
ABC Tech review
ABC Tech atlanta reviews
Reviews for ABC Tech atlanta
Atlanta msp reviews
Use Social to Boost Both
You can use your social media profile to boost both your SEO and your reputation management.
Do this by using your main site keywords in your social profiles and your social posts. Use your social posts to highlight your newest customer reviews to further build trust for your business.
In nearly every social post, include a call-to-action that leads someone to either a blog post or a service page on your site.
Using social media with your SEO and ORM in mind enhances all of them and makes them stronger than they would be if focused on alone.
Master a Holistic SEO & Online Reputation Management Strategy
Once you begin thinking of SEO and ORM as separate but connected, you'll find that both are elevated because you're using them together. This will result in more leads and conversions for your MSP business.
What's your biggest challenge with reputation management? Share your experience in the comments!