What Review Sites Can You Explore to Get More IT Business Reviews?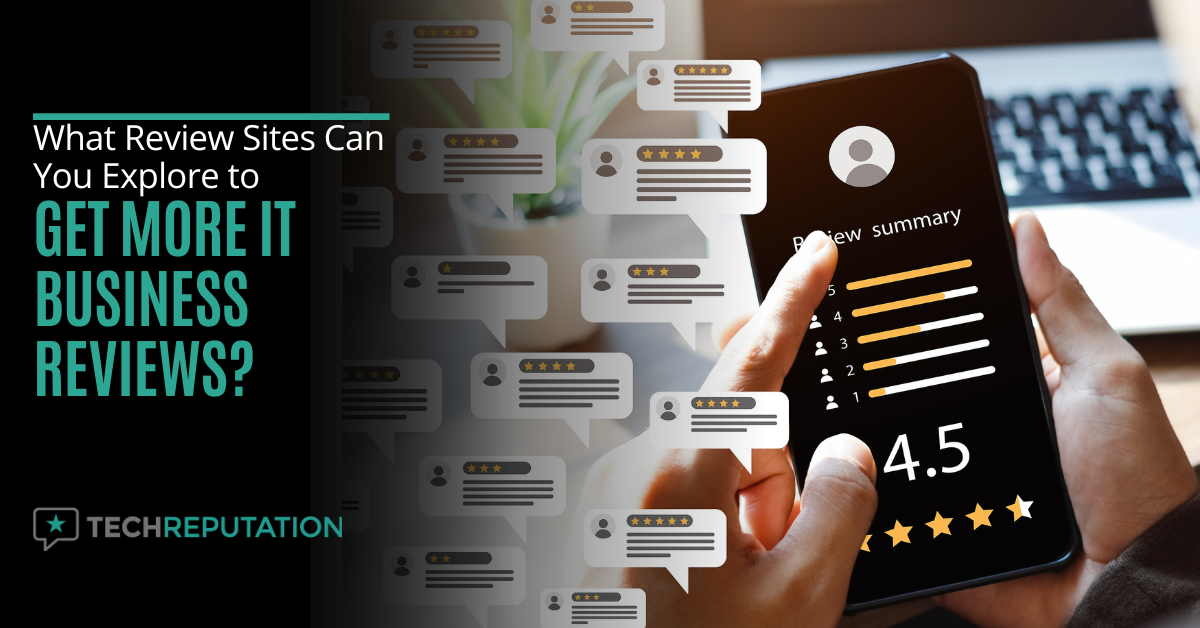 Do you ever feel like you've gotten stuck in a rut with your business reviews? Maybe you check your Google Business Profile diligently, just waiting for a new one to come in.
If you're feeling like your review volume isn't where you'd like, there are other alternatives out there. The internet is filled with tons of ways for people to rate and review the products and services they buy.
If you put on your explorer's hat and do a little web searching, you may just find a treasure trove of business review opportunities that you never knew were there. In this article, I'll give you the top 10 sites to leverage for computer repair and MSP reviews.
First, Why Bother With Several Review Sites?
Before we get into the list of review sites you can use to bolster your reputation, let's answer, why bother at all? Why worry about anything other than Google, which seems to be the most popular?
It's true that Google gets the lion's share of attention, with 72% of consumers saying they use Google reviews to find businesses. But it's not the only game in town. Sites like Yelp and Facebook also have a healthy number of people using them to share their experiences with companies every day.
More Reviews Means More Revenue
The number of reviews that you have matters to potential customers. For example, businesses with over 200 reviews in total create 2x the revenue of those with fewer reviews.
By tapping all the review sites out there, you can gain a significant competitive edge and build trust in your business. You also gain valuable insights into the various review sites your customers may be using.
By "tapping" all the review sites, I mean to:
Check out the site for existing reviews on your business that you may not have seen
Claim or sign up for your business listing on the site (then personalize it)
Respond to reviews that you find
Add the site to your automated review management system
Leverage your reviews from the site in your content marketing
More Reviews Boosts Your SEO Presence
Another reason to leverage as many review sites as you can is that each of those pings of your business presence improves your SEO rankings. Many of these sites create a listing for you as soon as anyone reviews you, but it might not match the details on your website.
By discovering and claiming your listing, you can update the profile to match what is listed on your official website. Google greatly appreciates this, and you'll get rewarded for it through better search results.
Now, let's go through some review sites that should definitely be on your radar.
Check Out These 10 Sites to Boost Your MSP Review Count
After looking at multiple review sites online, these are the ones that stood out as most helpful to computer shops and IT business owners. They are great candidates to leverage to bolster your review count, SEO, and online reputation.
The review site you should absolutely have an active presence on is the most popular – Google. This tech giant makes it free and easy to sign your company up for a Google Business Profile to immediately make it more visible to those searching locally for computer repair and IT services.
An average of 64% of consumers have used Google Business Profile (formerly known as Google My Business) to find contact info for local service providers and retailers. One of the reasons is that it's conveniently built into Google's browser, which is by far the most popular in the world.
Claiming and setting up this listing should be priority #1 if you haven't already. Then you should start promoting Google reviews to your customers so you can begin building your ratings and reviews.
Another popular review site is Yelp. It has an average of 178 million unique visitors each month, and 45% of consumers say they check the site before visiting a business.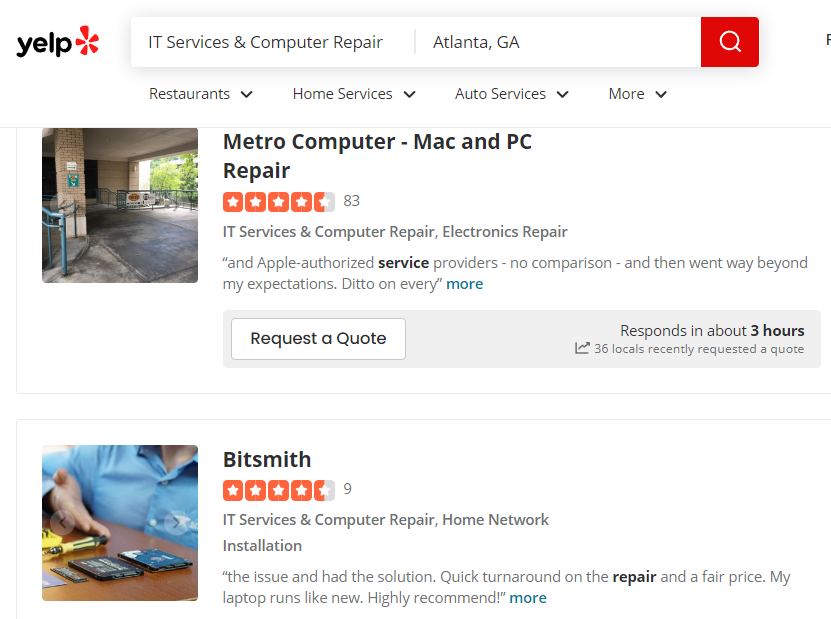 It's not just for restaurants and hotels. Though that may have been how Yelp got its popularity, you can find all types of other businesses there, including computer and IT services.
The Better Business Bureau (BBB) has been a mainstay in the U.S. for over fifty years. It's typically where people turn to see if a company is trustworthy enough to do business with.
The BBB includes both ratings and reviews. Though it tends to be the place where people go when they're mad at a company, don't let that scare you away. There is a lot of value in becoming BBB accredited and in addressing any complaints that may come through about your business. You can also use a good BBB rating as a marketing tool on your website to build trust.
Facebook ratings and reviews are a feature built into Facebook Pages and are turned on by default. Since the platform is ranked as the #1 most active global social media platform, it's smart to leverage it to gather and invite reviews of your business.
This folds in nicely with a social media campaign since your reviews will show on your business's page. You can also quickly share new reviews with followers to keep the good vibes going.
Trustpilot is a "catchall" review site that hosts consumer reviews in multiple categories, including computer and technology services. Consumers posted over 25 million reviews on the site between July 2020 and January 2021. The name alone is an attractive one to promote on your site to instill trust.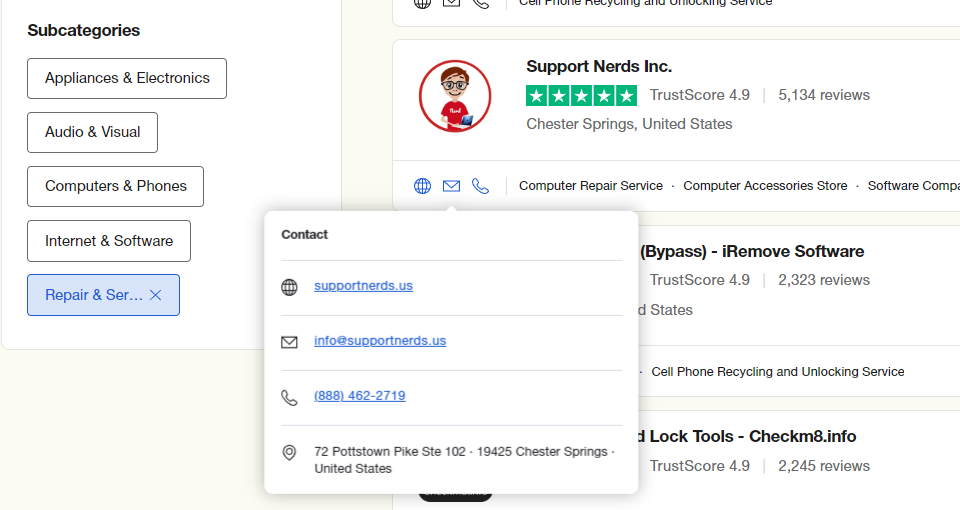 If you claim and personalize your listing, then those searching the site for computer and IT services will easily be able to visit your website, get your address, or give you a call by clicking your contact icons.
6. Angi (Formerly Angie's List)
Angi, which just rebranded from its well-known name Angie's List, is a popular home products and services review site. For those computer shops that service consumers, this is a great place to check for reviews.
The site has a "computer repair" category, as well as categories for home theater installation, and screen repair.
Apple has been building up its maps application in recent years to compete with Google Maps. This includes adding business listings and ratings that appear across all Apple experiences – phone, computer, Siri, etc.
This review listing also includes something unique called App Clips. Apple explains App Clips as "a small part of an app that you can use to do something quickly, like rent a bike, pay for parking, or order food. On Apple Business Register, you can choose which App Clips that have been registered for your place can appear on your Place Card."
Thumbtack is a local service provider search site similar to Angi. It includes all types of providers, including computer and device repair shops. If you service residential clients, this is a great place to seek out reviews and post a presence.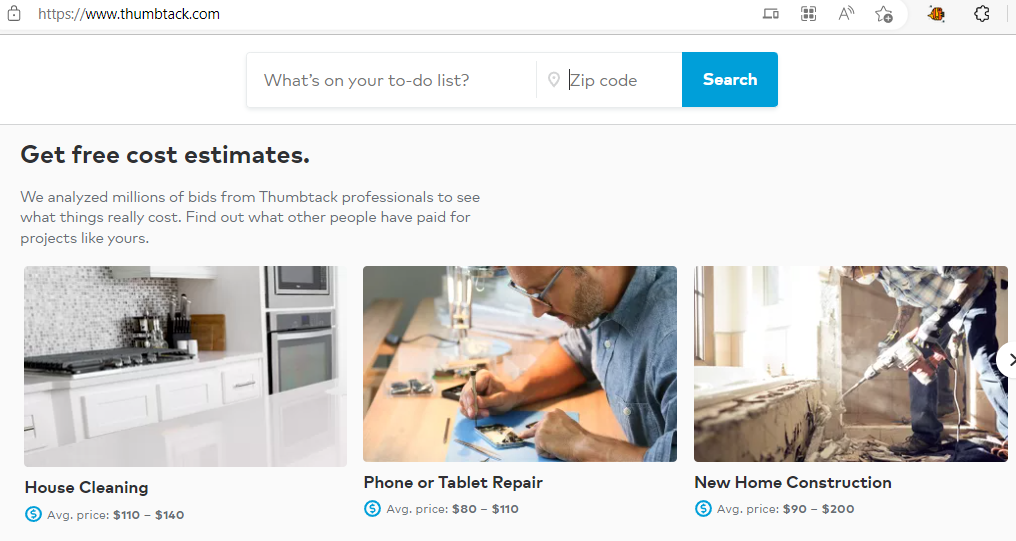 A feature of the site is the price range it provides based on averages charged. This is a great way to get some intel on what the competition may be charging for the same services you provide.
MerchantCircle isn't quite as well known as the other sites, but it does boast of having about 100 million consumers and 2 million merchants on its platform. The site is a search engine for local businesses and allows consumers to rate and review them.
If you claim your listing or sign up, you can enter all your contact details, hours of operation, and post a link to your website.
Sitejabber is a "catchall" review site similar to Trustpilot. Consumers can rate and write reviews for products and service companies, as well as search reviews that others have written.
The site has been around since 2008 and has been described as the "Yelp for websites and online businesses." The site hosts reviews, scam alerts, and consumer tips.
Make Review Exploration Easier by Automating the Process
Don't leave untapped sales on the table by sticking to just one review site. There are many others that can help you fill customer gaps and build your inventory of reviews while attracting more leads.
Researching reviews from multiple sites doesn't need to be time-consuming if you use an automated process like Tech Reputation. Our solution actively monitors top review sites and can alert you as soon as you get a new rating or review.
What sites do you actively monitor for reviews about your IT business? Tell us in the comments.