Why You Shouldn't Just Set & Leave Your MSP Google My Business Page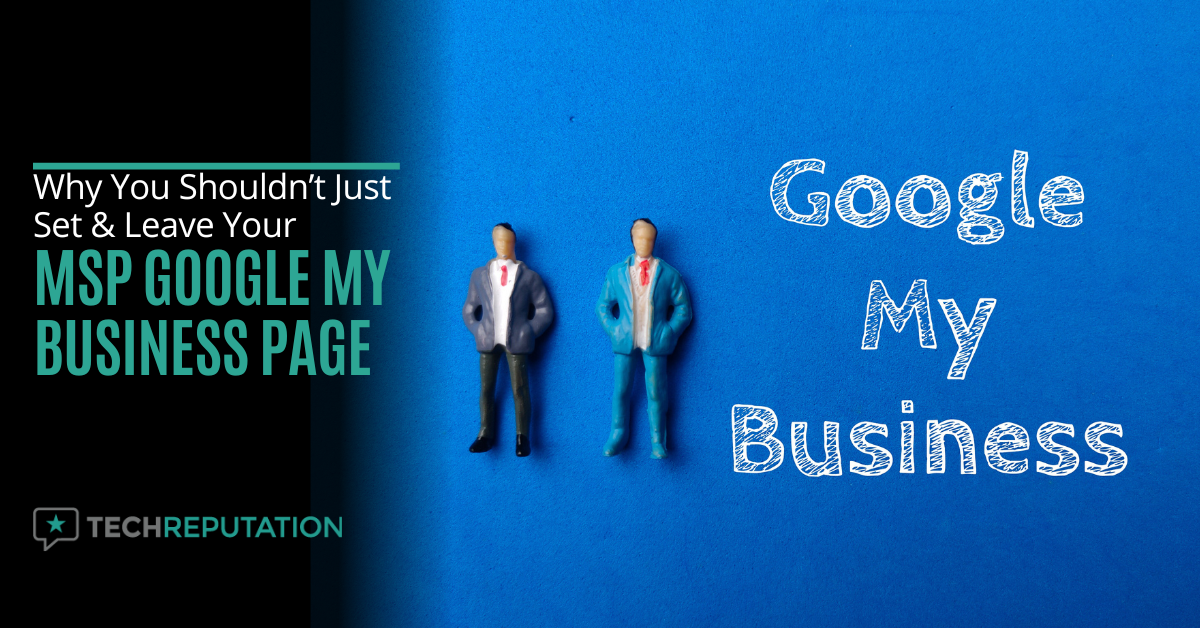 Once you get your Google My Business (GMB) page set up, there's a sense of accomplishment at completing a task that can significantly help your local SEO and drive business.
But if you just set up your GMB page and then leave it, the benefits can become diminished as the ever-changing world and internet continue to evolve. Being found means being present. This includes in your online storefronts.
Find out why setting and forgetting your Google My Business page can hurt your results, and the tweaks you can do regularly to keep it current and optimized for lead generation.
Your GMB Page Needs to Stay "Live" and Updated. Here's Why
If you have a local service business, then being on Google My Business is a must if you want to improve your search results. People searching for a local computer shop or local IT services for their business will often click on those local map pack results before anything else, especially if they're searching from a mobile device.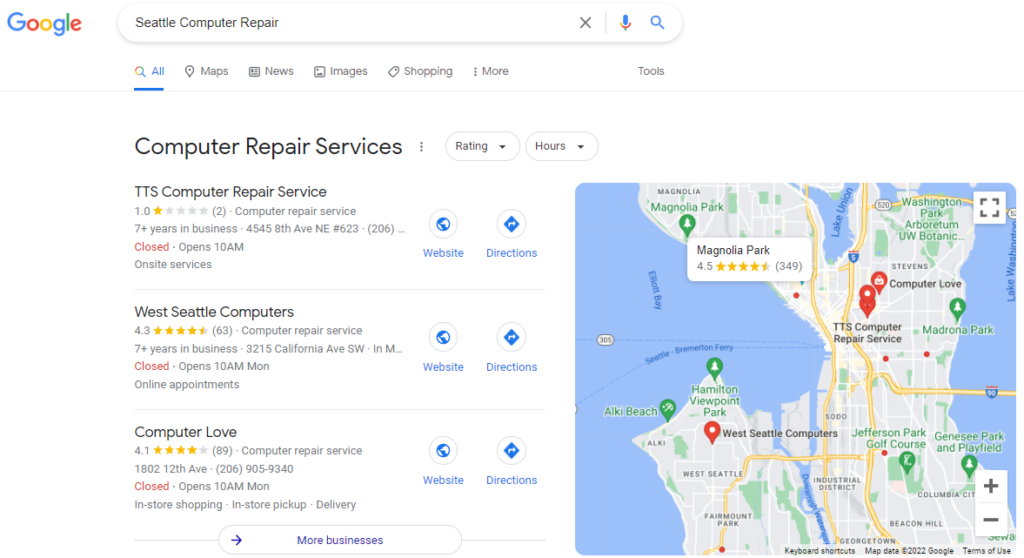 Local map results come up right at the top of Google.
Here are a few statistics that show the importance of having a GMB page for your company.
Approximately 90% of people never look past the first-page result on Google.
The average business gets 59 interactions with their GMB listing each month
Nearly half (49%) of companies on GMB get more than 1,000 views on search a month
But just setting up your GMB page and then letting it gather dust isn't going to get you the best stats when it comes to ongoing lead generation. Just like your website, your GMB page should be regularly updated for several reasons.
Google Likes Freshness
One of the factors in Google's complex search algorithm is freshness. If there is a search result that is six years old and another on the same subject that's only one year old, in a lot of cases, the fresher content is favored with a higher ranking.
If you never make updates to your GMB page, it gets stale. And while Google may not come right out and say that will hurt your local rankings, we already know that freshness is a factor it looks at when ranking results on the search page.
Your Business Details Change
One thing that will hurt your GMB page visibility is if the address and phone number details on that page no longer match those on your website. This is actually one of the things the automation looks at when you first sign up for a GMB page.
Business details change. You may move or you may update your phone number or website URL. Any changes on your website should be reflected on your Google My Business page so they always match.
Not having matching contact details can hurt the SEO for your GMB page and other local citations in various business search directories
New Features Get Added & You Don't Want to Miss out
Google is making GMB more robust all the time. It's really building it up to be like a "mini-website" within the search results page. When Google first brought out the GMB pages in 2014, they were pretty basic. You could list your company name, location, and a few contact details.
Over the years, more content has been added, and now you can add a lot more information that can help a person searching for the services you offer to make a faster decision. During the pandemic, Google has even added the ability to list your safety protocols to help customers be more at ease.
Just one additional piece of content beyond what a competitor in your area may have might be the one thing that pushes them to call you first.
Some of the many things you can now add to trick out your GMB page are:
Link to book appointments
Hours of operation
Commonly asked questions and answers
Popular times for your business
Your online reviews
Articles & social media posts
Your social media profile links
Images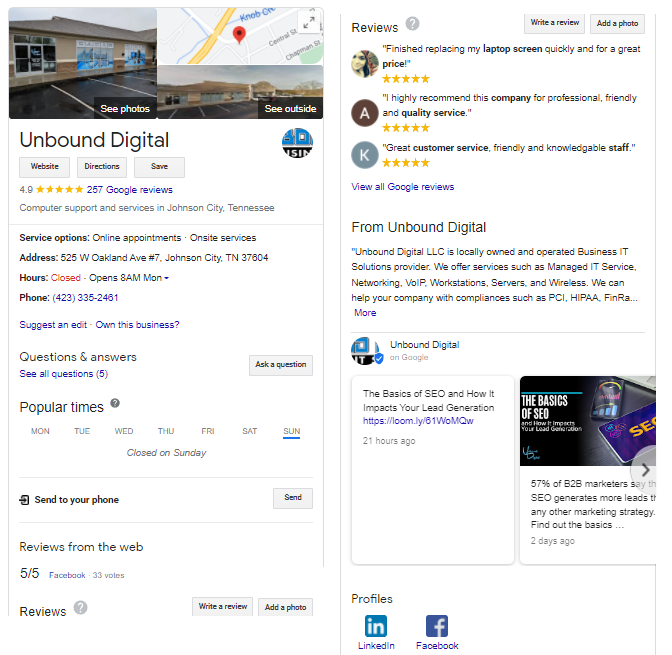 If you aren't regularly updating your GMB page, then you could miss out on the advantage of adding additional information on your company to help drive more leads and sales.
Reviews & Answering Them Helps Boost SEO
Your business reviews on Google display prominently on your GMB page and for good reason. Eight out of ten consumers read reviews before making a buying decision for a local service or product. Additionally, those reviews need to be fairly recent. Otherwise, they'll be discounted as irrelevant.
If you want to maintain good SEO for your IT business and continue attracting new customers, you'll want to have a review strategy that invites customers to leave reviews on your GMB page. AND… you want to respond to those reviews regularly for two key reasons:
People expect you to reply (53% of consumers expect a reply to a negative review within a week)
Potential leads read your replies to reviews (97% of people that read online reviews, also read the responses to them from the business)
If you need help automating your review process so your GMB page can continually be refreshed with new reviews, let us know!
Consumer Buying Habits Change
It's important to keep your GMB page updated to reflect the latest consumer buying habits and world events that might be impacting them. One excellent example is that during the pandemic, Google added COVID safety information options that businesses could add to their Google My Business Page.
Companies that took advantage of those, stood out during the worst of the pandemic because they offered a feeling of safety in doing business with them.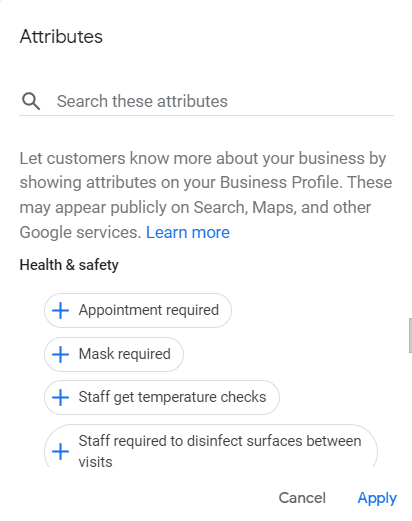 Some of the safety protocols that businesses can add as a result of COVID to their GMB page include:
Appointment required
Mask required
Staff get temperature checks
Staff required to disinfect surfaces between visits
You can also help your business stay in sync with cultural shifts in your area, such as adding a tag that your business is LGBTQ+ friendly.
Keeping Your Profile Engaging & Interactive
One of the interactive features that Google added to GMB over the years was the Questions and Answers section. This makes your page more engaging instead of just being a static billboard.
Once leads begin engaging with your business site, there's a much bigger chance they'll contact you. The Q&A section also helps you build up an important FAQ on your GMB page that can get you more business because certain buying questions might be answered right on the page.
The more information you can provide to mobile searchers (which is a majority of search traffic) without them needing to click around, the better.
New Technology Changes On the Horizon
You want to take advantage of any new technology changes that are happening in the future as Google evolves GMB to take advantage of them. A big one is voice search on mobile, which is becoming a bigger part of SEO every year.
71% of people now prefer to conduct search queries by voice rather than typing. They'll speak into their phone or smart speaker and expect to get the right result in seconds.
As Google rolls out voice search optimization features for GMB, you want to be on top of that.
The "metaverse" is also one of those new frontiers on the horizon. It's not yet known what this may do to the look and engagement possibilities of a GMB page, but those business owners that keep up with these developments will be the ones that stand out on those local searches.
Tips for Keeping Your GMB Page Updated Easily
You're already busy trying to keep your customers happy and grow your business, so it's easy to forget to check in with your Google My Business page for a few months or longer.
Here are some tips to make GMB page updates less time-consuming.
Automate & Get Help
Use automation where possible, such as connecting a review request email to your GMB page review form. You can also work with an MSP business optimization company, like Tech Reputation, which will optimize and manage your GMB page for you and keep everything fresh and updated.
Set Up Email Alerts for Customer Activities on GMB
Let your page update you when a customer interacts with it. Such as when a new review is posted or when someone requests a quote or books an appointment. You can set up these alerts in your GMB profile settings.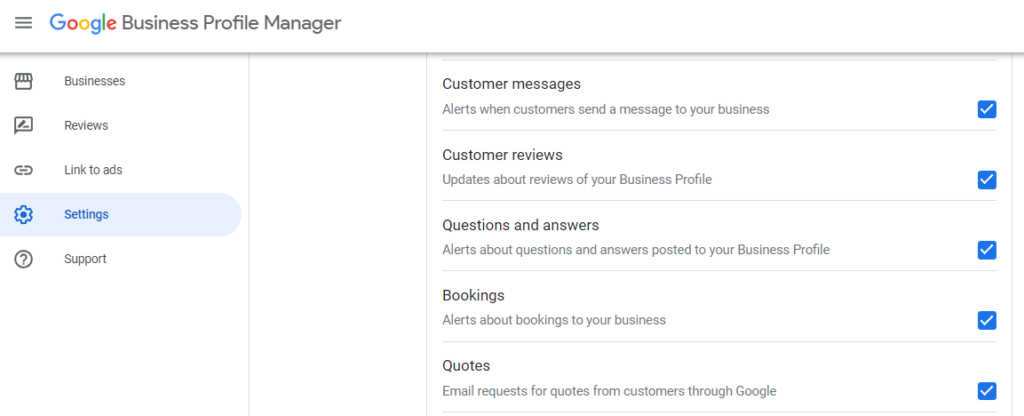 Set a Monthly Calendar Item
Set up a monthly calendar reminder so you don't forget to check in with your GMB page and see if there are any new features Google has added.
You could set up a "lunch and GMB" once a month, where you check it out while eating lunch. Do things during this time like:
Search your name to see what your profile looks like to searchers
Search a couple of competitor's names to see if they have extra features on their GMB you should leverage
Look at your back-end page settings for anything new
Keep Your Google My Business Page Engaging & Get More Leads
GMB can be an excellent generator of local leads for your business. The trick is to keep it optimized so you can maximize your results.
What's your favorite feature of Google My Business? Let us know below!